Hi guys,
If you're looking for a hand and feet treat, then I would recommend a visit to the Anesis spa.
I popped down last night with Jenny from
The Style PA
to enjoy a fish pedicure. And
unlike my last experience
this was relaxing, in a lovely environment, and it actually worked!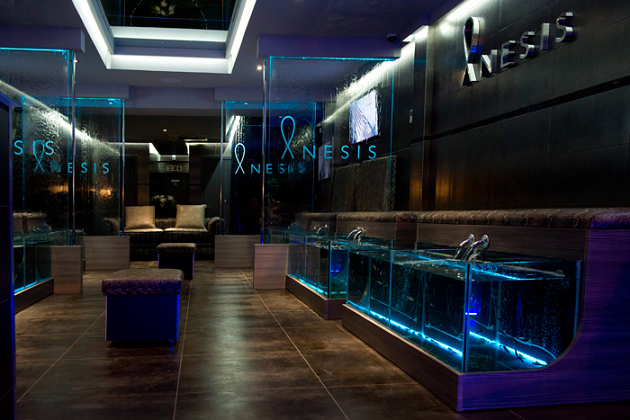 There were hundreds of fish in each tank, and they went to town, nibbling at my feet and toes. For those of you that haven't had it done before:A fish pedicure is a pedicure with a difference. You dip your feet into a tank full of garra rufa (or doctor) fish, who suck away all your dead hard skin. For those of you worrying about losing more than you expected (a toe perhaps!) they only consume the affected and dead areas of the skin, leaving the healthy skin to grow.
Because I knew what to expect from my last fishy experience, it actually felt really relaxing: like a tickly massage. The atmosphere in the spa was nice too: chilled out music, mood lighting, and comfy snakeskin seats that you sank into. After 30 minutes of fish nibbling and a glass of champagne, my tootsies were dried, then shaped and polished. I opted for an OPI shade called Russian Navy which looks lovely, and makes a nice change from my usual black!
After we had sat gossiping, letting our toe nails dry, we were asked if we'd like false eyelashes applying too. Obviously we jumped at the chance! We chose dramatic (maybe a little too dramatic with hindsight) sets of strip lashes, but unlike having your striplashes applied at home, these are supposed to last for up to two weeks. I was sceptical, as two weeks seemed like a long time for strip lashed to last. But so far so good: I slept with mine on last night, and they're still in place this morning!
I think
Anesis
would be a great place to head before a special girly night out. The therapists are warm and friendly. The atmosphere is perfect for pre-night out prep (Think an Ibiza chill out zone). And the fish pedi booths are organised so that you can sit with friends whilst having it done: perfect for girly gossip! The spa also offers individual blink + go lashes, high definition eyebrow shaping (which looks amazing: definitely on my must-try list) and OPI and gel manicures. All you'd need to do is book an afternoon at Anesis, buy a new frock, and you'd be ready for a night on the town!
Love, Tor xx
For more info visit: http://www.anesis.uk.com/