Hi guys,
Homewares are my newest obsession. I always like to have a project (i'm too active to just sit around in front of the TV) and now that the wedding is over my new project is redecorating our flat. We rent, rather than own, which means all the work I can do is fairly superficial: new soft furnishings, reupholstering furniture, that sort of thing. But i'm really loving doing it! Which is why i'm going to start writing a new weekly post called 'Fabfrocks at Home' outlining my projects, lusting over beautiful homewares i've spotted and even how-to's on what i'm working on next. If you get to hate it and want the blog to go back to 100% fashion then just say!
First thing's first: my new living room vision. It sounds a bit poncy to say 'vision', but it's the easiest way I can think of to decribe it. I'm looking to demodernize the living room and instead go for a sixties retro feel: i'm getting rid of the empty feeling generic Ikea furniture and replacing it with heavier original period pieces, then i'm going for bright colourful fabrics like paisley: think Austin Powers' shag pad!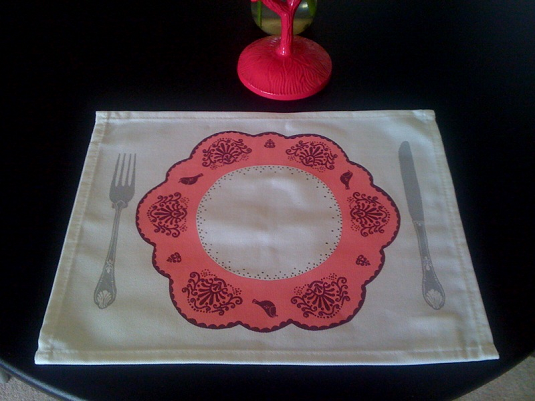 But I don't want it to look like a museum: it needs modern touches too. Which is why I ordered these gorgeous place mats from
The Green Apple
: they were hand drawn and hand printed, which is amazing considering they only cost £6.50 each!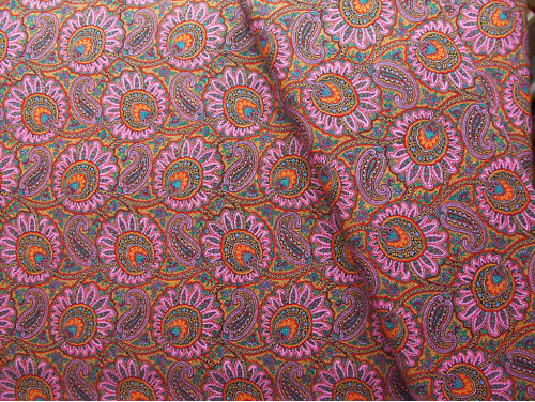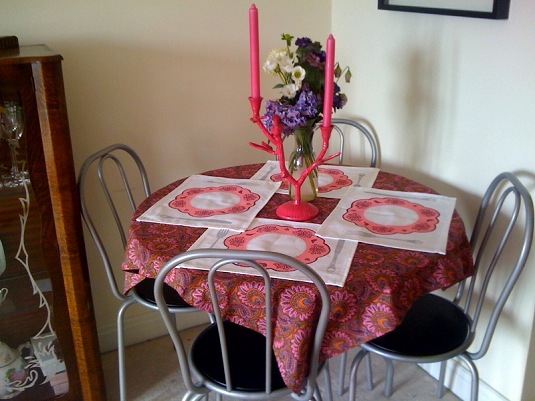 And as for the shag pad paisley? I ordered this Kaffe Fassett for Liberty print fabric from ebay, and it cost just £9 per meter. Considering Liberty print fabric in Liberty is £31 per meter (which I just couldn't afford!) i've had quite a bargain! The colour is a little darker in reality than in the photo: it's actually on a black base. I'm using it to make a table cloth and napkins, cover a footstool, and I have also found a tutorial for using fabric to cover furniture. I'll be trying it on my coffee table and reporting back on it's success or failure. Fingers crossed!!
Love, Tor