Hi guys,
Late last year one of my collegues tore an article out of one of the Sunday supplements for me about how to create your own fabric furniture. It has sat on my desk until last weekend, when I decided to give it a go on our old Ikea coffee table: it only cost £10, and it was so scratched we were going to throw it away anyway, so I had nothing to lose!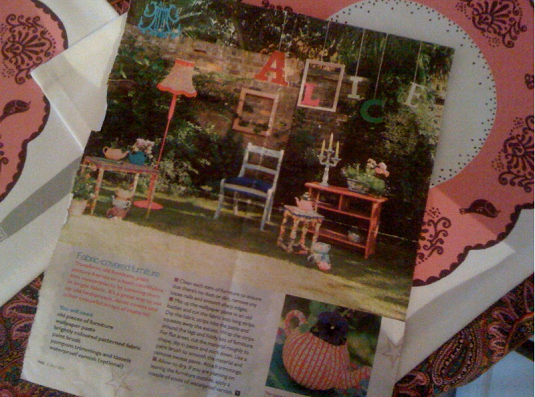 I'm delighted to say it turned out to be a roaring success! It's such a cheap and quick way to update and personalise your home. So although I can't take any credit for the idea, here's how I did it, so that you can give it ago yourself! I needed just two metres of fabric (which cost me £20, but will depend on the fabric you choose) and 1 bag of wallpaper paste, which cost £1: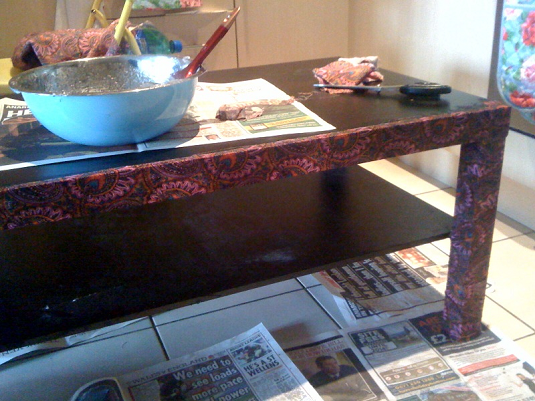 - My first step was to measure the table top and cut a piece of fabric that was an exact fit for it. I then cut my remaining fabric into strips, approximately 3 inches wide.
-Once all the fabric was cut I mixed up the wallpaper paste, then I decided to start on the legs (its a good place to start as it's left noticable if you get it wrong!) I took a long strip of fabric, soaked it in the paste, then squeezed out the excess. I then wrapped it around the leg, smoothing it down as I went along
-For the top I used the same technique to soak the big piece of fabric, then lay it on the surface, using a paintbrush to smooth the fabric down, making sure there were no folds, or creases in the fabric.
- I used the same flat fabric technique to cover the sides of the table. And voila! That is literally all there is to it. It took around 24 hours to dry: if you want to use the furniture outside, you can apply a varnish at this point. And here's the finished product: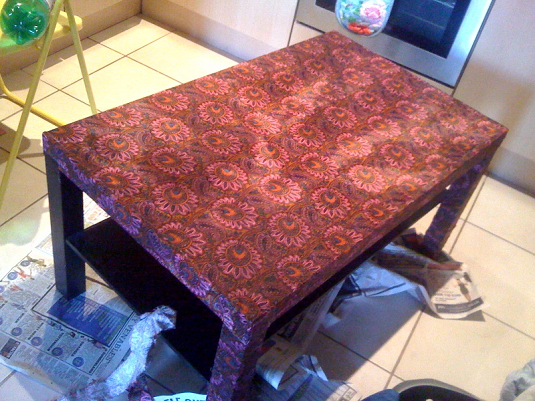 I love it-it doesn't look patchy at all when it dries! I know it's a bit much for your coffee table to match your table cloth and napkins, but I think it looks great. And the possibilities are endless: you can apply this to just about any piece of furniture: in the original article they did tables, chairs, and even a teapot! All you need is fabric and imagination!
Love, Tor xxx