Hi guys,
I have a secret confession - I own a hooded top. Shhh, I know it's not very cool or glamourous. And a supposed fashion blog probably isn't the best place to admit it. But when i'm slouching about at home, or popping to the supermarket, or strolling on a Sunday morning, there's nothing more comfortable.
When I was a student you couldn't get me out of my UEA hoodie, which I wore with skirts instead of jeans, to be more 'fashion'. Yup, I was sooo damn cool! Although in my defence, everyone else on campus had one too!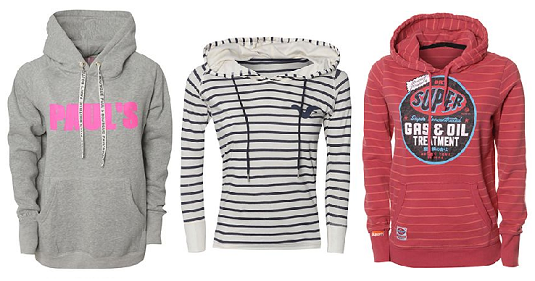 Nowadays though there's more choice in the hooded top department than horrible sports brands or university logos.
These hoodies for women
are actually pretty cool, especially the Pauls Boutique ones, which I definitely wouldn't be ashamed to bump into my boss in Asda wearing, on a cold Saturday morning. Although nowadays I would definitely be teaming them with jeans and pumps, not dresses!
Hoodies are never going to be high fashion items, but they are wardrobe essentials. I don't know anyone that doesn't have a couple for rainy slouchy days: so why not make the couple you own cool ones?!
I'm definitely going to replace my fraying grey one with one of these considerably less embarrassing examples! Admit it - you have one and it's the comfiest item in your wardrobe! Am I right?!
Love, Tor xx
PS - Don't forget to scroll down to enter the COMPETITION to win an Aussie hair kit. It closes at midnight tonight!!
*Written in association with Bank