Hi guys,
On Saturday morning, whilst munching on cereals and talking about what to do with our day, we made a last minute decision to go to Bicester village. Now, the week before payday, that probably wasn't my wisest move, but I just can't resist a walk around Bicester, there are always so many great bargains to be had!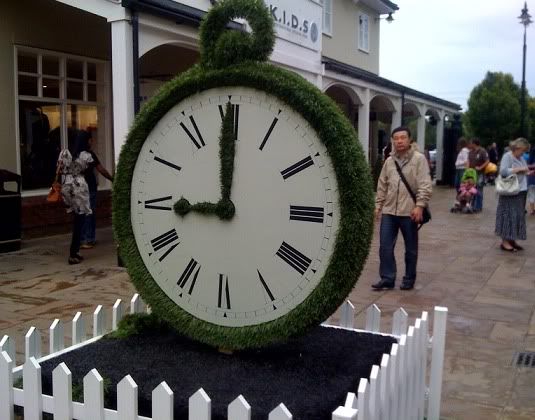 During August in the village, artist Lucy Strachan has created a series of Alice in Wonderland themed sculptures which have been placed at each entrance to the shopping area. They come in the shape of the White Rabbit's pocket watch (my favourite!), The Mad Hatter's hat, and a tea cup from the tea party, and if you're in Bicester it's definitely worth looking out for them!
But nevermind the artwork and on to the shopping! So what did I get?! Well here it is:
-I picked up a big Mulberry patent leather notebook for £25. I am a complete stationary whore (I have far too much) but I love the sense of possibility you get with a new notebook. I'll probably end up using it to write shopping lists, but who knows, I could start a brilliant novel and change my life!
-The Vivienne Westwood scarf is so soft, and so big I could wrap it around myself twice! I cost £48, but it matches the deep red French Connection coat I got last winter so perfectly, I just couldn't resist it. And when Autumn comes, it will look great teamed with my leather jacket too.
-I got a sequinned cardigan and a black dress from French Connection for £15 each: an absolute bargain! In fact, there were loads of great bargains in the French Connection outlet to be had, especially on sequinned dresses and cardigans (left over from last year's Christmas stock) but perfect if you like to plan ahead.
Other things worth noting about Bicester this week (if you're fancying a trip) are that the Monsoon/Accessorize outlets have shut down (sob!) so there's no more cheap jewellery to be had. The Cath Kidston outlet was as busy as ever, and lil sis picked up some massive homeware bargains: always worth a look. And Pringle have a massive 90% sale on right now: i've never seen discounts like it, so it's definitely worth a look!
Love, Tor xx