Hi guys,
My love of anything with an animal on (especially jewellery) is so well documented that Mike can't walk past it without bringing it home for me. Not that i'm complaining about that, of course!! Yesterday when we were in Primark looking at the baby clothes for my lil sister's impending arrival, he went to town, and picked up every piece of animal jewellery in the store!
It's amazing how many animals have been immortalised in brass and enamel. The trend started with birds and tigers, but now almost no animal is immune! Here's what I got: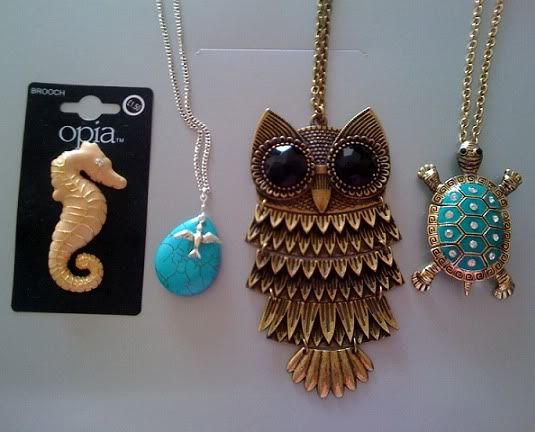 - Seahorse brooch, £1
- Turquoise and bird necklace, £3
- Massive owl necklace, £5
- Turtle necklace, £3
My favourite by far is the owl, which is massive and such an attention grabber! I also love the turtle, which is so unusual, and has a real vintage look about it. The Primark jewellery binge was the perfect end to a perfect day: we went to Bicester village where I got a Vivienne Westwood scarf, a big Mulberry notebook, and a dress and sequinned cardigan from French Connection...But that's tomorrow's post!

Love, Tor xxx