Hi guys,
I love knitwear. I love getting cozy in oversized jumpers and slopping about in big cardigans. Buying new cardigans means that Autummn is coming, and I am so ready for Autumn: i'm sick of summer dresses and not being able to layer. I want to wear something more substantial! Which is probably why my introduction to the brand
Electronic Sheep
came at exactly the right time.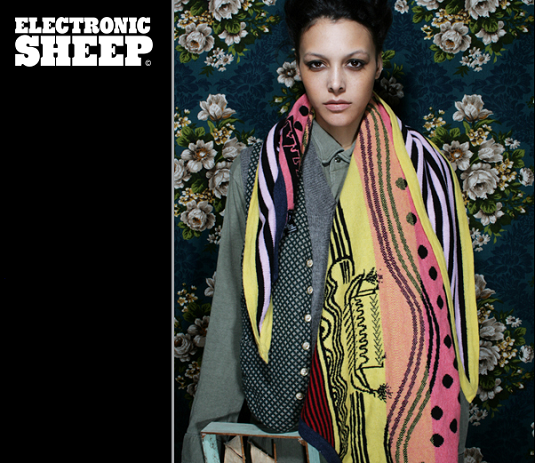 This is the label to make all your knitted dreams come true: think scarves, hats, and capes with bold graphic styles patterns in vibrant colours all over them. This isn't for the faint hearted: you'll find no plain and understated black or grey knits here. I can just imagine myself wrapped up in layers of clashing knits teamed with simple black frocks and slimline jackets: that's one of the reasons I love knitwear so much. It's perfect for adding drama and interest to my otherwise fairly boring black wardrobe.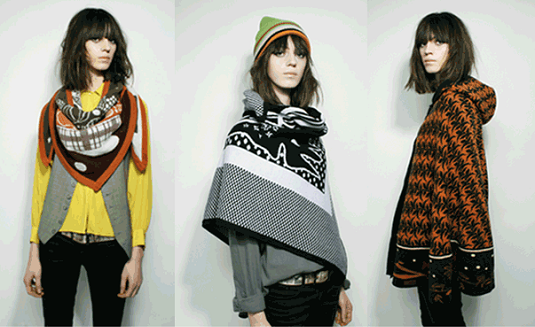 Electronic Sheep are also launching a collaboration with female DJ group
Broken Hearts
this A/W. The results of this collaboration are the include the 'big fruit' patterned scarf, the ultra long 'Alchemist Foxtrot' patchwork scarf and the 'Swift and Cliff' hooded cape.
I have to get my hands on one of those hooded capes, which would look perfect with my brown fur hat for my December trip to Berlin: Mike and I have just booked a 4 day trip at the beginning of the month, so that we can explore the traditional Christmas markets. See, I told you I was out of the summer mindframe and already thinking about autumn/winter: and I just mentioned the dreaded 'C' word too: shame on me!
Love, Tor xx