The third question in my "what to wear to..." series is the most difficult one of all: What to wear to a job interview. I think it's so hard, and often spend more of my preparation time panicking about my outfit than I do reading my notes!
.
What you wear to a job interview depends on a number of factors. Firstly of course its key to be professional, and its important to be comfortable. But the level of formality, and more importantly creativity in your outfit depends on the industry you want to work in. So i'm going to divide my post into 3 categories: formal (I think this is best for city jobs), semi formal (this is good for more creative roles such as marketing and pr) and casual (nowadays almost any role can be in a "casual" office so only go casual if they specifically say so- I had my first casual interview for a big corporation, and it was more nerve-wracking than the boring suit ones!)
.
Formal:
Sadly, in some industries there is no room for creativity at all. If you are going to a formal interview for a formal job I would stay safe in a black suit and a crisp shirt. I would even stick to a skirt: I have heard from friends who work in the city that this is what is expected from women at the first interview stage. This doesnt have to be horribly boring though! A well cut shirt can be hard to find, and I bet you will find yourself wearing it to everything, again and again!
Semi formal:
For this I would still lean towards a suit but team it with a jersey top rather than a blouse. This is also a good place for a shift dress and nice handbag!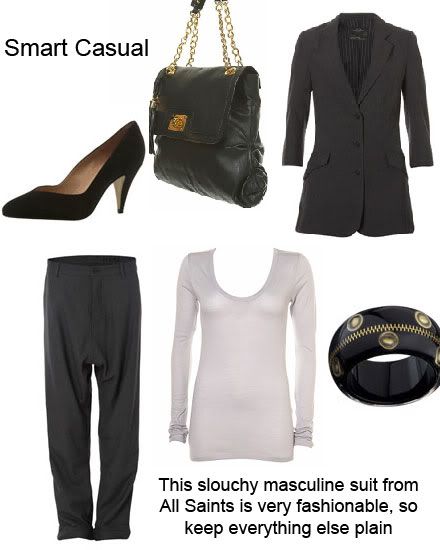 Casual
: Like I said before, this is the hardest one. No matter how casual everyone else is, this doesn't mean jeans! It's still an interview, so its important to look a little smart and make it clear that you're taking the interview, and the job seriously. When someone says come casual what they want is for you to be relaxed: but an interview is still a time to present the best possible version of yourself.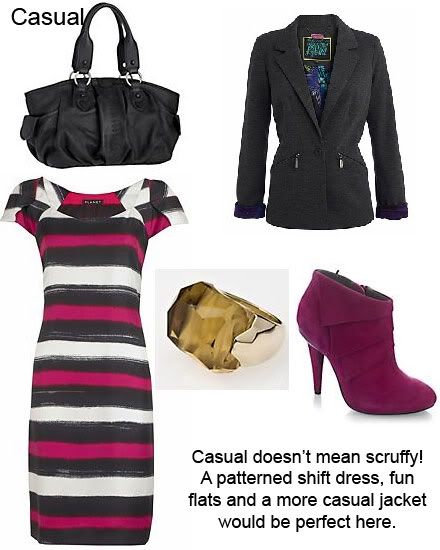 Most of all, don't worry too much about it all! The best piece of advice my mum ever gave me was to remember that they aren't just interviewing you, you're interviewing them. So I always put a little piece of my own creativity in my outfit; with interesting shoes or a piece of jewellery. (I do work in a creative role though!) Because it's important to me and if they don't like who I am I won't be happy anyway, so it's better to just not get the job!
.
PS - Congratulations to the lady who inspired this post! My sister found out on Thursday that she has a new job and is exciting to start in a new career direction. Go Amie!
.
Love, Tor xx
.

Outfit 1: Suit from Debenhams, shoes from Carvela, shirt and bag from River Island.
Outfit 2: Suit from All Saints, everything else from Topshop
Outfit 3: Everything is from Debenhams