Everyone I know (until recently) has graduated in the summer. I always thought this was the standard university way: until December when i'm confronted with my sisters snowy graduation and no idea what to wear! For every other graduation i'd been to a floaty tea dress and pretty heels had been the easy order of the day! This was as much a dillemma for both my sisters and my mum, so I thought the next installment of my "what to wear..." series would cover what to wear to a winter graduation.
What do you wear to a winter graduation?
Young or old, the perfect piece for the winter graduation (if you have the money for this as well as a lovely outfit, of course!) is a statement coat. My mum wore a beautiful calf-length cream wool number covered in black embroidery, which she teamed with tailored black trousers and a red silk top (for an injection of colour) I couldn't afford a new coat, so opted for my smartest navy mac. It might not seem that important, but given that all but the professional pictures are likely to be taken outdoors, people will see more of your coat than anything else.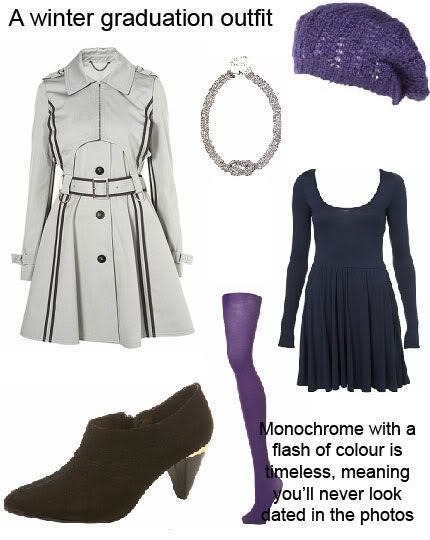 If you really feel the cold I suggest you balance the neccessary accessorising with colour coordination; its OK not to freeze in a hat, scarf, and gloves, as long as they all match; if you really want to coordinate, match it to your top or dress underneath as well!

With a winter graduation it is tempting to whip out the sparkle: the shops are full of Christmas party dresses, and this is a special occasion, the bad devil on your shoulder tells you. Don't be tempted: you'll only stand out for all the wrong reasons. The outfit you're looking for is a smart formal day time outfit: something you wouldn't be ashamed for your Grandma to see you in!

If you fancy wearing something a little more attention grabbing then you could do a lot worse than this seasons winter florals: a wintery take on the traditional florals most people wear to a graduation: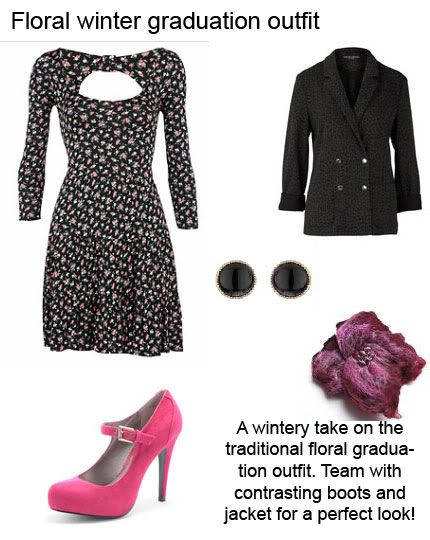 And of course for those of you than wouldn't wear a skirt for love nor money, the winter graduation is a Godsend; skirts are almost expected in the summer, but in the winter there's nothing you can't do with a well-tailored pair of trousers. Opt for a brown or navy blue to avoid blending in with the crowd or accentuate your dramatic nature with black on black.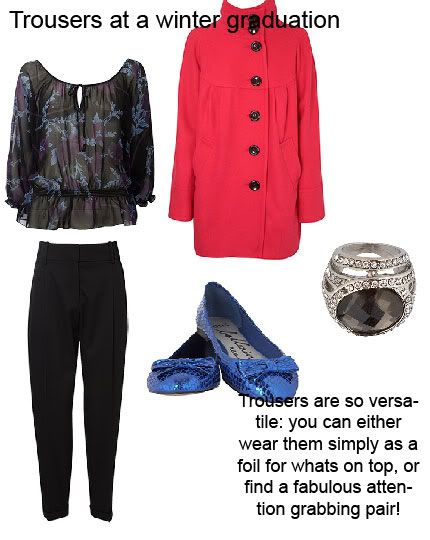 Another thing to bear in mind (with summer as well as winter graduations) is that if you are going to be walking across lawns to reception tents or photography beauty spots think about what you wear on your feet! As always the usual "rule" to stay comfortable applies and in this case it is also important to think about staying warm; there's nothing worse than having to rush through such a special day because all you can think about is how cold your toes are!
I opted for a coral black and blue floral skater dress with thick black tights and knee high black boots. I teamed it with my navy blue mac, a black scarf and black hat: it was warm and comfortable, but looked really smart on the day. And it really was a special day all round!
Love, Tor xx