ASOS have launched a new plus sized range called "ASOS curve" aimed at curvy women sized 20-28. I can't review the fit or the quality because the collection isn't aimed at me, but I can say that i'm glad that ASOS have decided to grow their brand in this direction (doesn't this mean there is noone left that can't have ASOS in their wardrobe? Their domination of the online shopping world is complete!)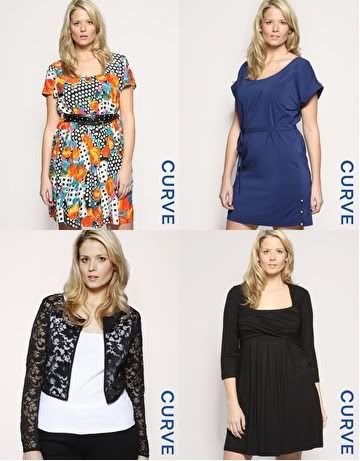 Things I love about ASOS curve:
That the plus sized clothes are actually being shown on the body of a genuinely plus sized model. I hate it when you see a size 14 girl modelling for Evans (they do that alot) How is that inspirational for a plus sized woman?
The price point is the same as for the ASOS mainline range. I know that plus sized clothes require more fabric (and this is used as explanation) but always thought it must be awful to have to spend so much more than anyone else for every item of clothing you buy.
As you can see from the pics above, the clothes are genuinely fashion forward. They are young and trendy and versitile: there are pieces here that could be worn by any plus sized woman of any age.
The collection is quite small at the minute (only a couple of pages of stuff) but i'm sure as people start buying it it will grow and grow! A perfect incentive to get involved in what I like to call "online shopping Friday!"
Love, Tor xx