Dear coat,
Thank you for finding your way to the French Connection outlet and being so resilient: it must have been difficult being sent to a second-rate shop and hanging there for so long, knowing that noone wanted you. It must have really hurt to have only badly fitting dresses and odd leather goods for company, knowing you didn't deserve to be there.
I'm so glad I found you: I knew as soon as I saw you sitting alongside the mustard coat I thought I wanted that I would make you mine: I knew I could make you happy. I'll take you out and show you the world (well, North London, anyway) i'll play with you in the snow. I'll look after you and repair you if you ever get hurt.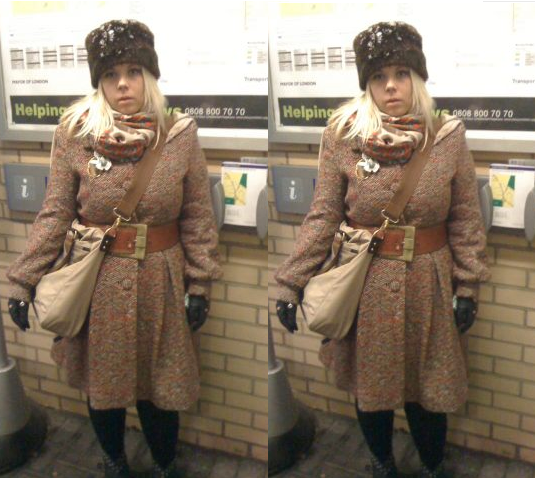 I love that you're so versatile: I can style you with tan vintage accessories at the weekend and get a fab retro look, but you also look smart and sleek with black accessories for meetings and trips to the office.
Today I teamed you in vintage style with a big belt, a couple of old brooches, a patterned scarf and my cozt fur hat. You've protected me from the snow and you look great. Thank you!

Love, Tor xx