Hi guys,
Back in my home town the Christmas lights are always switched on by a dodgy B-listed panto star. Turning on Christmas lights is generally a coup for B listers, or desperado's trying to make a come-back. So it is a massive coup for Westfield London that they have Rihanna to switch on their Christmas lights on Thursday!!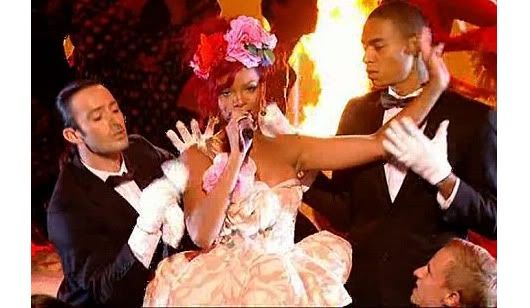 The star is in town to promote her new album, LOUD. RnB isn't really my type of music, so I haven't heard the album, but I thought she looked and sounded great on the XFactor on Sunday night! I also loved her look on the Xfactor on Saturday (hence the picture above) The dress was gorgeous, as were the matching bloomers and OTT hair accessories!
Rihanna will arrive at Westfield London in true superstar style, to count down the turning on of Westfield London's dazzling Christmas lights and officially launch Christmas 2010 and 100 lucky fans will be chosen to have the ultimate experience of meeting the superstar herself! Westfield London will make this the most memorable affair with an amazing display of pyrotechnics, while Rihanna will be surrounded by a beautiful set of Red Roses. Rihanna will be joined on stage by Children from Help a London Child to help for the big switch on moment.

I love it when the Christmas lights are turned on and the Christmas window displays get installed: it makes me feel really festive! This must mean it's time for my annual trip to check out the windows at Selfridges.
Love, Tor xx