Hi guys,
As quickly as the weather turned icy cold, it has turned back to a milder and more clement temperature. This makes dressing difficult: it's warm as you walk to work, but pretty cold when you trek home after dark. Of course, I used the same solution to this that I use to all things: I wore lots of layers! Here's what i'm wearing today: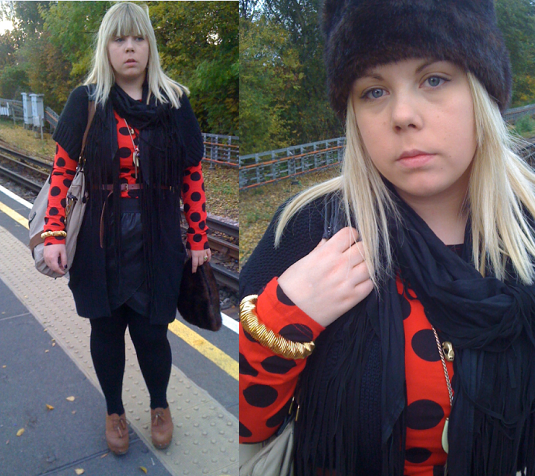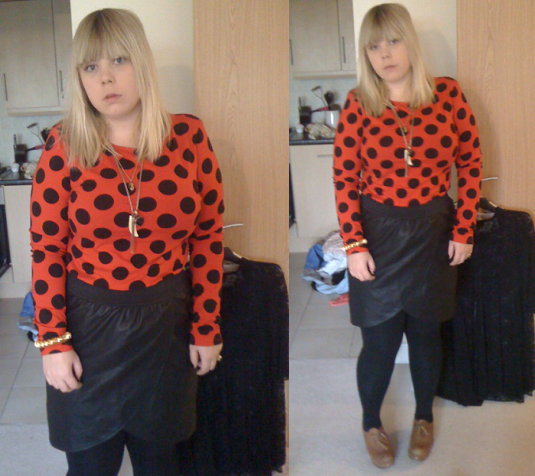 Top: River Island, Cardigan: Vince, Shoes and scarf: Topshop, Pleather skirt: Matalan, Bracelet: Gogo Phillips.
I love this pleather skirt, but this is only the second time i've worn it: it ruches around the waist adding bulk, which makes it difficult to wear. I am looking for a leather skirt, but i'd like just a simple and classic A-line one. I call this my Minnie Mouse top, for obvious reasons: I thought it would add a pop of colour, but looking at these pics I worry it makes me look top heavy. I love the contrast of the heavy gold jewellery against it though. And check out my gorgeous new
Gogo Phillips
bracelet. The lovely Amy from
Wolf Whistle
sent this over and I love it: its really chunky, but incredibly light! It's a really bright gold, and it's stretchy, meaning I can position is much higher up my arm too. Check out the website if you get the chance: gorgeous jewellery photographed really well (the photography is yummy in fact!)
I'm not sure if this is an outfit fail or an outfit success: I think a wider skirt would have balanced out my bust more, and made me feel much more comfortable! Thoughts?
Love, Tor xx