Hi guys,
I am an accessories addict, so I was delighted when
betafashion.com
got in touch and asked if i'd like to check out their scarves. Their look book looked beautiful: full of unusual modern designs. I picked my four favourites from their extensive collection to take a closer look at: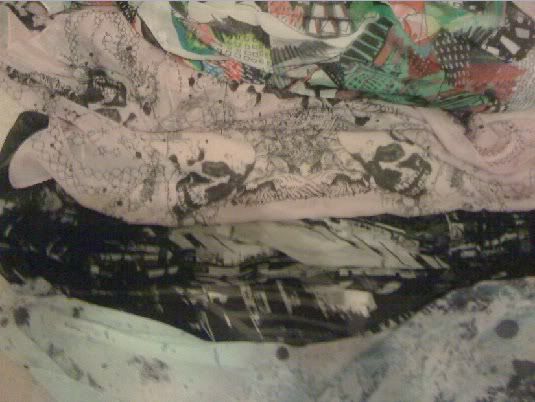 The scarves arrived a couple of days ago, and I am delighted: If possible, they are nicer in the flesh then they looked in the pictures. The designs I chose are called (from top to bottom):
Urban Jungle, Skulls, Tokyo, and Interstellar dust.
I wish I had a crazier fashion sense, because I think they look amazing stacked together like this, but i'd never wear anything that clashed so much! The scarves are soft, almost sheer and incredibly lightweight. The sheer-ness (is that a word?) means the colours don't look as intense as they do on the site, but they are just as beautiful.
The reason the designs are so eclectic is that Beta Fashion have an open call to artists around the world to submit their scarf designs and contribute to its collections, sharing revenue with those whose designs are selected for production. The scarves are printed on high quality silk and cost £35 each. Contributing designers range from graduates of Central St. Martins to independent artists from all over the world. It's just a shame that when you're shopping on
the website
it doesn't let you know who has designed each scarf. Here are the full designs on each of the scarves I chose: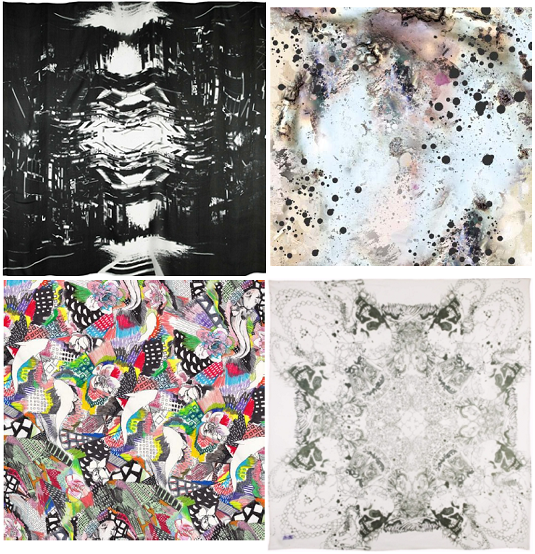 My mum loves silk scarves and wraps one round her neck every day, in a sophisticated way I could probably never replicate. I've mentioned before that i think alot of fashion-behaviour is learnt from your parents, and so I have a little scarf collection too. The thing I love about scarves is how versitile they are: tie them around your neck, in your hair, or, my personal favourite, use them to brighten up your favourite handbag. What looks like a bright splash of colour from afar becomes a beautiful intricate pattern up close: I love the madness of the scarf below, where skyscrapers sit alongside flowers and flying dolphins. (I took a close up so you can see the detail)

I couldn't resist tying each scarf to my bag and posing in front of the mirror, like a girl! They're much bigger than you think and leave lots of lovely fabric trailing along your bag, or a big ruche of fabric at your neck. As you can probably tell, i'm a little smitten!
Love, Tor xx
PS -I have one more image of the scarves to add (me actually wearing one!!) but stupidly left my camera cable at the office! I'll update tonight!