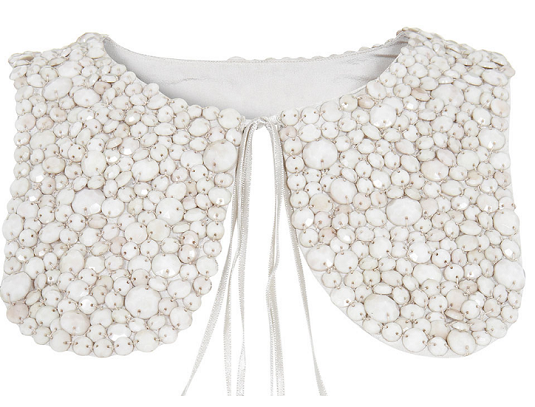 Hi guys,
Now that we're just a month away from Christmas, and everyone is starting to feel festive, I thought I would bring you an extra mini-blog post every day (as well as my usual rambling ones!) The extra post will be a suggestion for your Christmas wishlist, which will probably be something I saw and fell in love with, and put on my Christmas wishlist! Either way, it will be
a
Christmas wishlist, and it will feature things that are fashion-y, cool, and because i'm putting it together, some stuff that is just plain weird!
Today on the list is this cream antique embellished
collar from Topshop
: it is one of the five "online exclusives" pieces Topshop just added to their site, and as soon as I saw it, I knew it had to be mine! Apparently numbers are limited, and some of the other five pieces already have sizes sold out, so if you're fancying this, send it to your santas and their elves sooner rather than later. It costs £32, which is expensive for Topshop jewellery, but when you consider how it will change the look of all the tops and dresses in your wardrobe, it's definitely worth it!
Merry Christmas!
Love, Tor xx