I don't usually do book reviews here (other than occassionally insist that Nell Dunn is a queen and you all go and read
Up the Junction
immediately!) but maybe I should: fashion and literature are my two biggest passions and I spend my BA and MA dissertations combining the two. I don't know why I haven't done it before, but i've decided that (very occassionally) I will: only books about fashion of course (or books with interesting fashion overtones). I'll leave the serious book reviews to WendyB!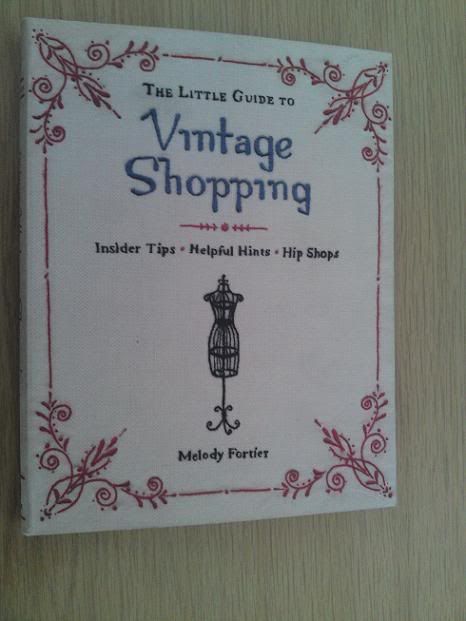 When
the little guide to vintage shopping
by Melody Fortier arrived on my doorstep a couple of weeks ago, I was immediately impressed by how it looked and felt. I know you can't judge a book by its cover, but if you could then this one would be a winner: it looks like the cover has been made from a very beautiful vintage fabric which has been embroidered: the photo really doesn't do it justice!
.

Melody Fortier is a lifelong vintage enthusiast, as well as a vintage buyer and seller, and her knowledge and passion for the subject is immediate from the very first page. She has a shop, a website,
a blog
, and is clearly in love with what she does!
.

I love buying vintage and owning unique pieces, but because of the long and busy hours I work, I find I rarely have the time to do it. (Note to most London vintage stores: please don't close at 5.30pm when most people are still slaving away in their offices!) I also find that I struggle to value the pieces i'm looking at: is that dress really worth £50, or is it a 80s piece from Marks and Spencers (still good, but plentiful on a car boot sale for a couple of pounds!) This book answers all those questions and more. The knowledge the book imparts ranges from how to decide how old a garment is to how to tell if it will fit you; how to care for the garment once you've purchased it to how to alter and modernise your new purchases.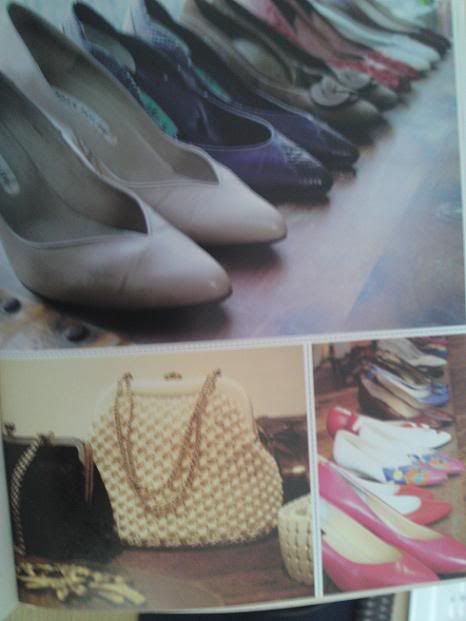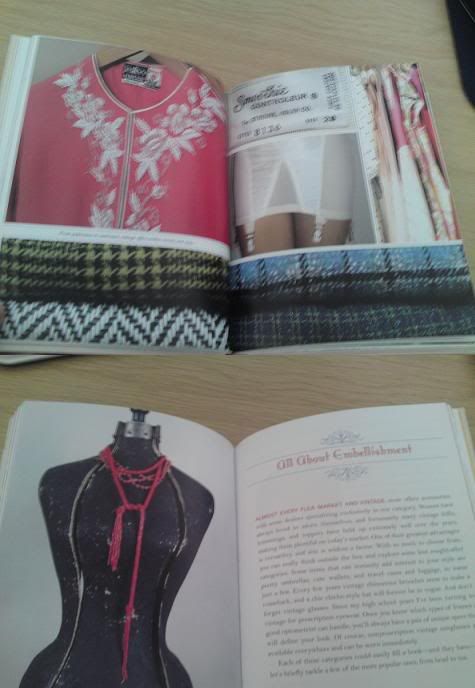 The text is also interspered with some fabulous illustrations of any kind of vintage garment you can imagine; from shoes and hats to underwear and jewellery.
.

The book is informative as well as a pretty good read (particularly if you have an interest in history and the history of clothes - it isn't a novel!), and perfect for dipping in and out of whenever you need to know anything about your vintage shopping: The measuring illustrations and guides for prices and eras in table form are particularly useful. There is also a pretty useful section on buying on eBay: perfect for webheads like us (well, like me at least!)
.
Overall I would recommend this book to anyone who is interested in shopping vintage and wants to know more or as a go-to guide for somebody already dabbling in the vintage game. As it is an overview though, I wouldn't recommend it for someone who is already serious and knowledgable about their vintage! As a casual vintage partaker, it is definitely a book I am happy to have on my shelf.
.
Love, Tor x