Hi guys,
Apologies in advance that this piece is slightly off topic, but I want to talk about weddings. Yes,
again
! Since I shared my wedding photos last year, and the theme for the wedding the year before, I have been inundated with emails asking me to share some of my ideas on how to have a themed wedding on a budget. Given that that's exactly what we did (big wedding, small budget, buckets of creativity) I thought I'd write this post. Here are some of my favourite wedding themes, and how you could make them work on a budget: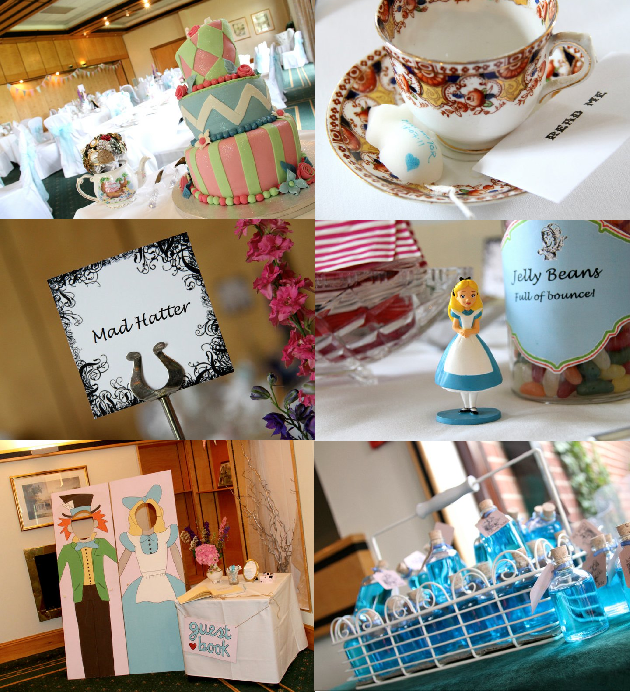 Yes, all of these photos are from our wedding!

I loved our Alice in Wonderland wedding and with the help of my trusty team (read: my mum and sisters) we managed to do alot of it ourselves. If you're looking to throw an Alice themed bash on a budget then make your local carboot sale and vintage shops your friends: this is where I sourced all 60 of my teacup favours, and all of the tea pot centre pieces. The best investment I made though was to spend £12 on two stamps: one of Alice and one of the Mad Hatter. I used these to personalise everything! My invitations, menus, table plan, and even sweet buffet all had a visit from those stamps!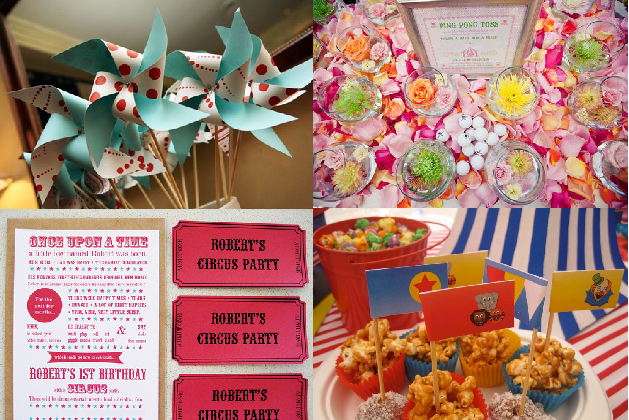 If we hadn't chosen the Alice in Wonderland theme for our wedding, then we were also toying with a circus themed wedding. Again, simple ink and stamps would have been key for making this theme consistent. I am a sucker for the circus font type face too: you can download this and use it to make your own stationary.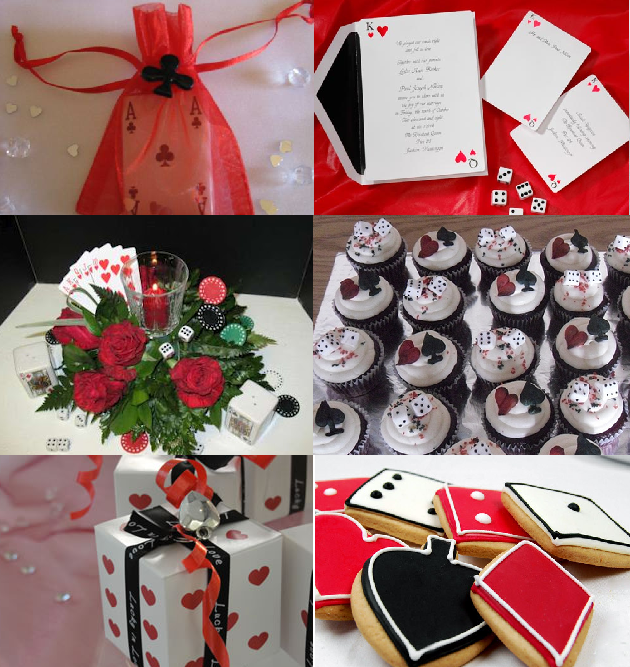 If Mike had his way, the wedding theme would have been
casino.
Think card tables, poker games, dancing girls, and a Vegas-style carberet. Although it wasn't right for us, I actually love this theme idea. Your invitations could include casino chips (which could then be used as drinks tokens at your bar) and the feathers from a show girls frock would make great table decorations! This theme would probably be harder to do well on a budget though: you'd need to hire croupiers, entertainers, and all of the games tables too. I would also have wanted an Elvis impersonator! On the DIY front though, you'd be amazed at what you can do with a pack of cards. Make that the centre of the theme and get creative. I also love the cookies and cupcakes above, if you know anyone who can cook...
Would you have a themed wedding? Or do you think they're a little tacky (I won't be offended I promise! I love tacky!) I'd love to hear your thoughts....
Love Tor xx