Hi guys,
...Well technically, they're actually £2.50 shoes, as they were £5, buy one get one free. So as well as the shoes, I also picked up an embroidered T shirt for a fiver. Then for £7 I got two simple silk shell tops: one in vibrant red and one in teal blue. Perfect for smartening up jeans and knitwear. But it was the shoes that were the biggest bargain, especially as they're leather, and bang on trend: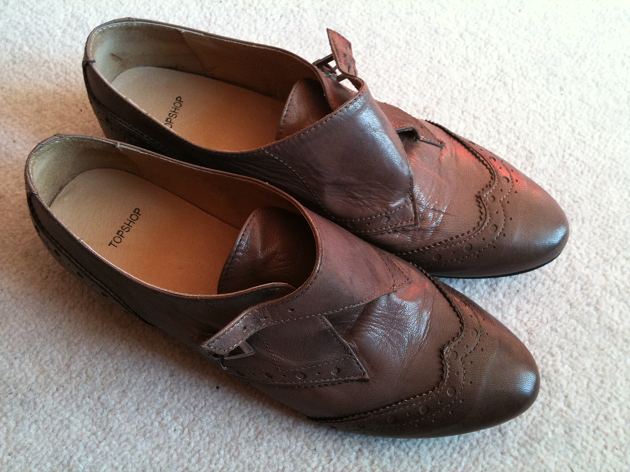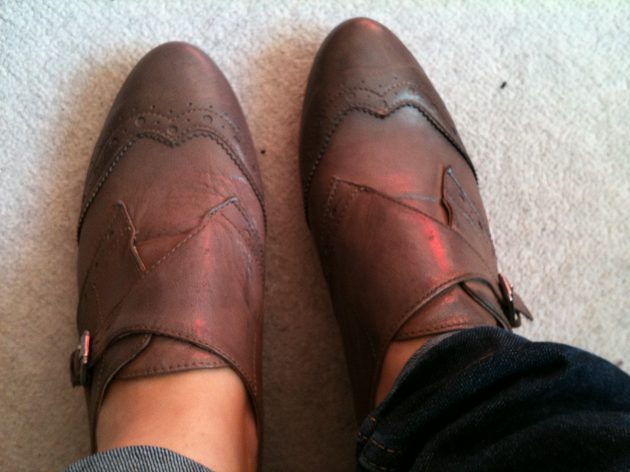 I really love this: they're a slightly more feminine take on the classic brogue, but the lack of laces means they look less chunky and more stremlined, making for slender calves (unlike the bulky leg look I often get with traditional brogues). The colour is a lovely milk chocolate brown, and they were just made to be teamed with tea dresses and tights (which is actually how I'm wearing them today!) I still can't believe how cheap they were!
This week in the Topshop outlet (I went in on Saturday) there were lots of shoes and trousers, but not a massive supply of dresses. The jewellery stand had been newly refreshed though (all the jewellery is £1.50 bogof) The girl behind the checkout told me that they are expecting alot of new stock in over the next fortnight though, as they will be getting everything that is in the current Topshop sale (exciting!)
If you'd like to check out the Topshop outlet for yourself, it is in The Broadwalk Centre in Edgware. Be warned though: it is a very small shop, and there often isn't a great deal of stock, so it probably isn't worth travelling too far to visit (I live just a 10 minute drive away, and it is next door to my local Sainsburys, hence my constant visits!)
Love, Tor xx
PS - If you haven't already, I would love it if you could take just two minutes out of your day to vote for me in the
Westfield Bloggers Competition
. I'm currently in third place so I need your help (and probably a miracle!) to win!