Hi guys,
I am a dedicated dress addict. I love to wear dresses in all their many forms: floaty, tight, short, if it's got a skirt, it's in my wardrobe. But this season is the season of the trousers. They're everywhere, and everyone is wearing them.
I don't want to spend a lot of money on a trend that I might not be able to make work with my wardrobe, or even feel comfortable wearing more than once or twice. But I do feel like I should open my mind and give this trouser thing a go. So where did I head to look for cheap trousers without compromising too much on quality? The topshop outlet of course!
Palazzo pants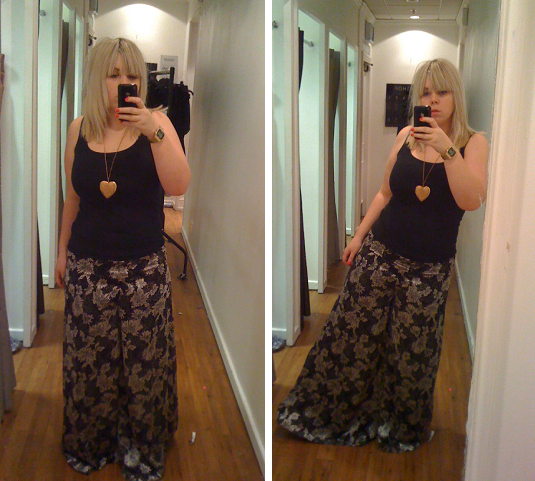 The more I look at myself in palazzo pants, the more I realise that they just don't suit me! I'm just too short and too curvy to pull these off. Which is a shame because I loved these cotton and velvet evening ones, and they were a bargain at just £10. Just not right for me.
Peg leg trousers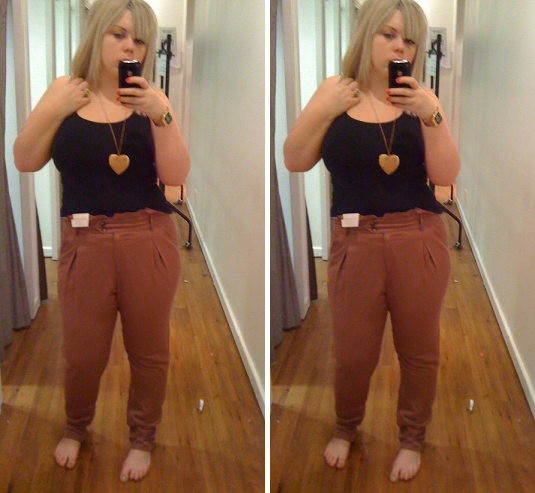 Another pair of £10 trousers (which means if you got the palazzo pants too the bogof offer would make them an amazing £5 each!) These made my thighs look ginormous, but on the bright side, at least I now know cinamon coloured peg leg trousers aren't for me!
Floral trousers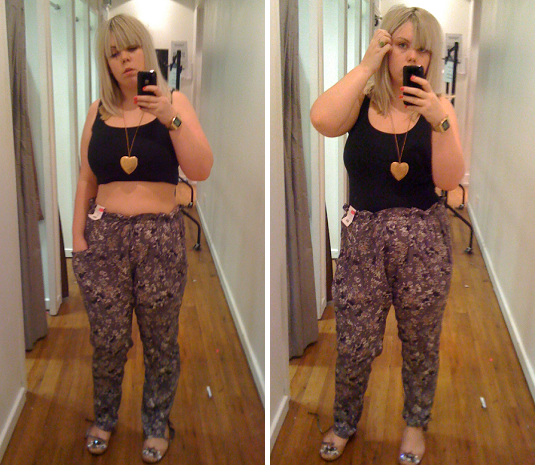 These floral trousers were £15 (with that all important BOGOF) I've rolled my black top up to show off the paper bag waist band. I really liked these, and with sandals, a black silk vest and baggy cardigan (or fitted jacket depending on my mood) these would be perfect for work and play.
Slouchy shorts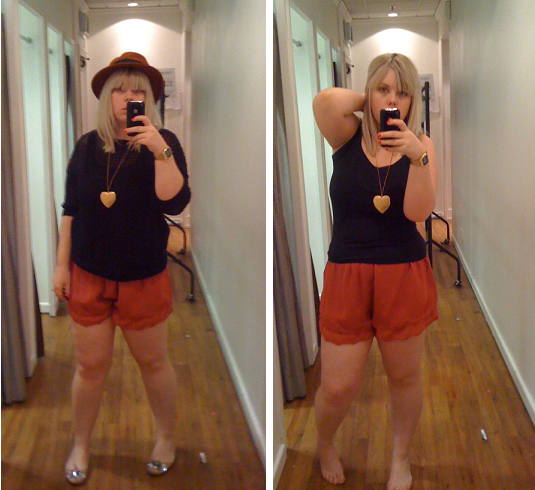 I do not have good legs. In fact they have been certified as my worst feature. So you definitely wouldn't find me wearing these £15 shorts about the city this summer. But for lounging around the pool on my holidays? I actually quite like them! Much more flattering and lighter than my usual denim options. Definitely worth a try!
How do you guys feel about trousers? Will you be embracing the trouser trend, or sticking to skirts instead?
Love, Tor xx