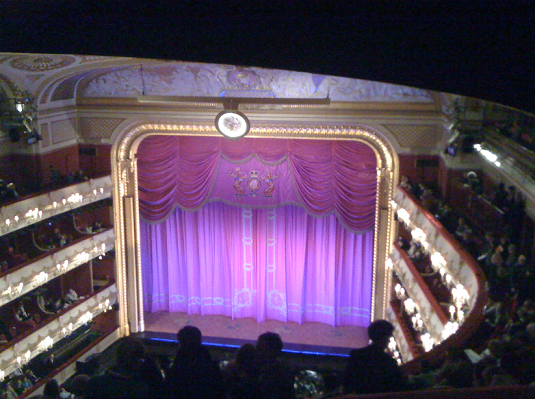 Hi guys,
Last week it was with much excitement, but not especially high expectations, that I went to see Anna Nicole Smith, The Opera. As soon as i'd heard that the ROH had comissioned this new show I was excited: Anna Nicole's life story lends itself perfectly to opera. But I had read some bad reviews, and was worried a show I knew had so much promise might turn out to be terrible. Luckily, in my opinion at least, the other critics were wrong, and I wasn't disappointed.
The whole show was visually spectacular: more so than any other opera I have seen before. It was also notable that there were loads more young people in the theatre than I have ever seen for any other production at the ROH I have been to (Paloma Faith was sat in the same seating zone as me) Maybe comissioning new young work like this will reenergise the face of opera, which is stereotypically seen as archaic and outdated.
The lead, playing Anna Nicole, was especially energetic. And you really will chance your perception of opera when you watch it being sang by three girls in lingerie hanging upside down from pole dancing poles! The score wasn't always vocally challenging, but the lyrics were hilarious, particularly at the beginning, when we were whizzing our way through Anna Nicole's early life. As a big Anna Nicole fan anyway, I loved the interpretation of her hick family and terrible first husband. The youngster playing her son, Daniel, was adorable, and the guy playing her second and more infamous husband, J Howard Marshall, brought an unexpected slap stick to the proceedings. The end of the show depicting ANS's death was sad and poigniant , and as always, the villain was the media.
For me, it was like the operatic version of Legally Blonde, The Musical: and that is the best West End show i've seen in the past year! I completely loved this. It was hilariously funny but also tragic and moving. Everything you'd look for in an opera, really! If you get the chance to see this show then don't say no: you'd definitely regret missing it.
Love, Tor xx