Hi guys,
I know it's a big fat cliche, but when the sun starts shining and the birds start singing, I have a compulsion to start wearing florals. Florals= the start of spring, as far as i'm concerned. I'm still wearing closed shoes (despite what all the girls wandering down Oxford street in sandals think, it's just not that warm yet!) but i've switched to the footless tights, and it feels amazing to feel the breeze around my feet: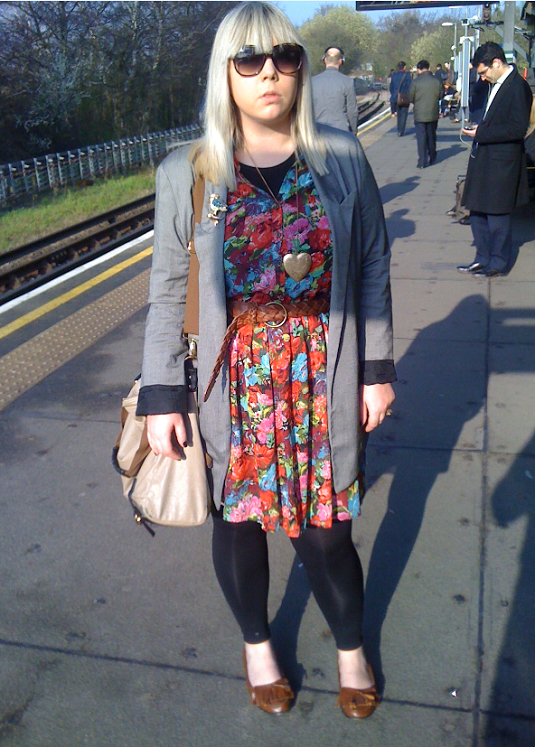 I was stupidly excited on leaving the house to realise that I could put my sunglasses on before 9 oclock in the morning (they're Spitfire ones from River Island) I love wearing sunglasses, and have far too many of them, so it's great to be able to dust the collection off and bring them out.
It's only when I started writing this that I realised just how much Primark i'm wearing today! My dress, shoes, and belt are all from Primark (but not all this season). My jacket is Topshop, the bag is from Joy, the necklace is from Urban Outfitters, and the brooches are both vintage. Here's a close up of the brooches, because they're too ridiculously cute for words: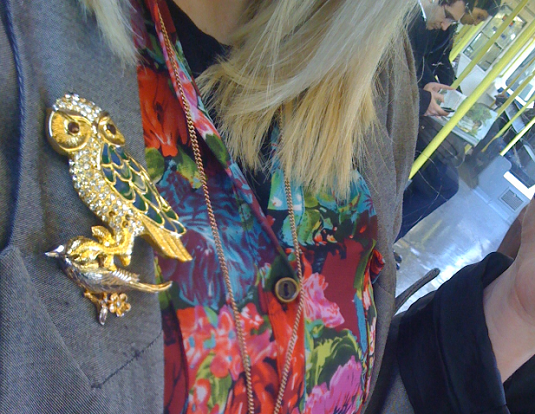 The little bird was a gift from my mum, and is the twin of the one that sits on the handle of my brooch bouquet. Mike got me the owl from the John Lewis vintage jewellery counter: I find it horribly expensive, but he was just too cute to miss out on! I've attached them so it looked like the owl was catching the tiny little bird: small things amuse small minds, apparently!
Love, Tor xx