Hi guys,
Spot the trend?! As soon as I saw this display in Zara I immediately thought of Prada S/S11. So I took a snap, logged on to Style.com, and it looks like I was right! This is one serious highstreet homage!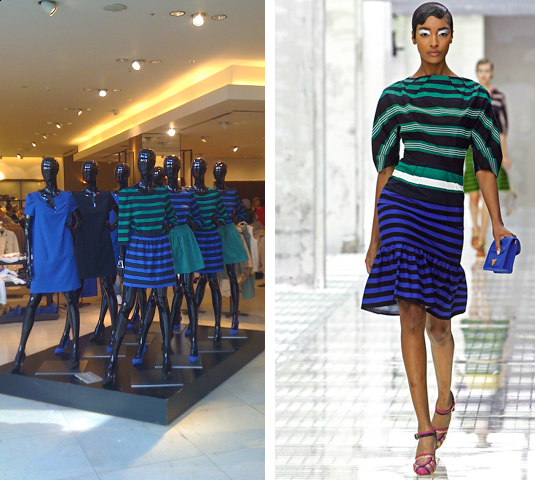 Left is Zara, Bond Street. Right is Prada, SS11.
I'm never really offended by a good high street copy: I loved the S/S11 Prada collection and have had stripes on the brain for this season. Of course, I can't afford Prada, but I can afford Zara. If I could, believe me i'd be buying the real thing! But I think the point i'm making is that when the highstreet copies designers trends, it isn't losing the designer any revenue from poor folks like me! It's just making them lust after your brand all the more, and when the money comes in, they'll know where to turn!
As you're reading this, i'm in Norwich visiting our vicar. We're meeting all the other couples that are getting married this summer, discussing our musical options with the organist, and having the vicar approve our readings. As I write this, I have no idea which readings we'll choose: but i'm sure a three hour car drive talking about in nonstop will help us make our minds up. Lucky old Mike!
Love, Tor xx