Hi guys,
I've just seen pictures from the Emporio Armani A/W11 show, and my first thought was, maybe i'm an Armani girl. For it was a complete black out: black as far as the eye could see (with ocassional flashes of a crisp arctic white) The collection really could have been designed with my personal taste in mind: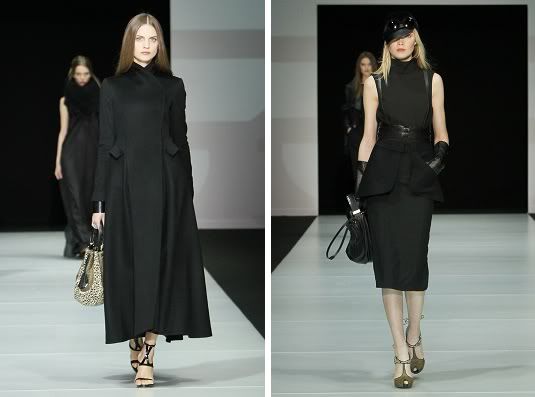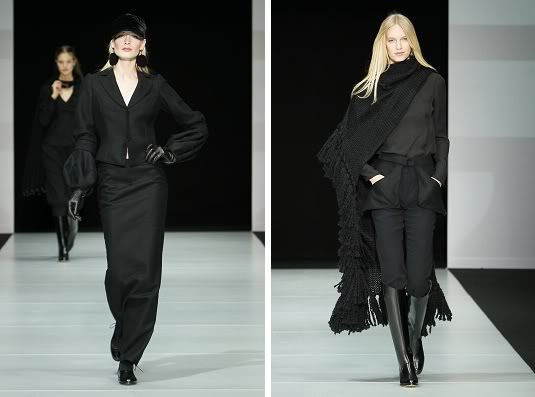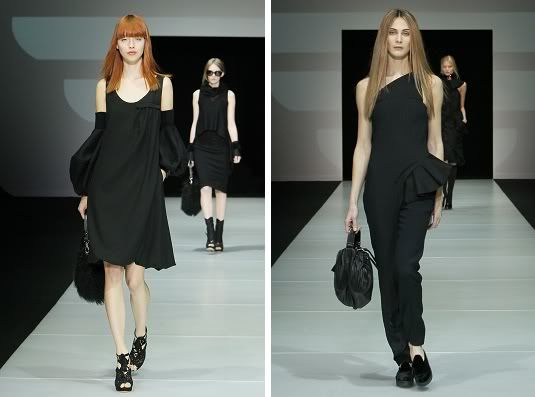 Here's the inspiration:
"In the style of a film noir, beauty is concealed behind a pair of dark glasses and under a hat tilted over the forehead to suggest a hidden mystery. This enigma is heightened by the perception of a life without frontiers, according to a plot that follows an aesthetic journey between different worlds. A precisely defined vision, treated ironically to give an effortless and contemporary image. A stylish take on international espionage, travelling through time and distance, referencing the beat of great nightclubs and the silence of famous hotels."
I loved the layers of black and the mix of the fabrics: the sharp fitting trousers teamed with the knitted scarf/cape and the shiny patent boots was a particular favourite, and an outfit i'm bound to take inspiration from next winter. My favourite piece from the collection was the raw edged sleeveless dress: it looked amazing against the models pale skin and with her vibrant flash of red hair.
I know it's more classic than fashion forward, but I really love this collection: it's the first one i've seen for ages where I could integrate every single piece into my wardrobe right now and wear it to death. Maybe, deep down, what I really want is to be a film noir spy!
Love, Tor xx