Hi guys,
*Warning - This post contains wedding content. I'm aware i'm becoming obsessed.*
I am a dedicated high heel lover. So much so that even though I sprained my ankle on Monday, and my foot is swollen like a balloon, I will still be squeezing it into heels for a friends wedding on Saturday afternoon. For special occasions and evenings out, I don't feel like i'm ready without a heel on. Which is why I opted for
high Dior heels in satin and leather
for my own wedding: if you're ever going to have an excuse to buy expensive and impractical shoes then this is it! But the practical side of my brain has been telling me that I won't last 12 hours in stilettos, and I need to invest in some flats for dancing the night away. Which leads to my mission of finding party style flats and my question: can flat shoes be dressy shoes?
Here are the shoes i've been looking at: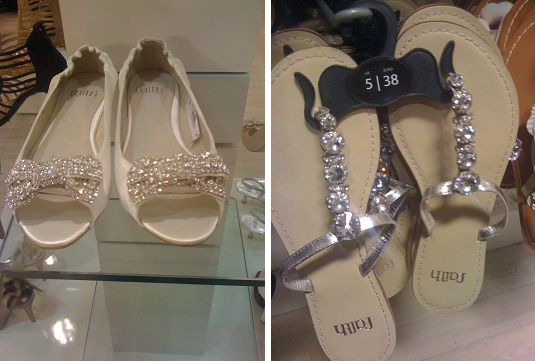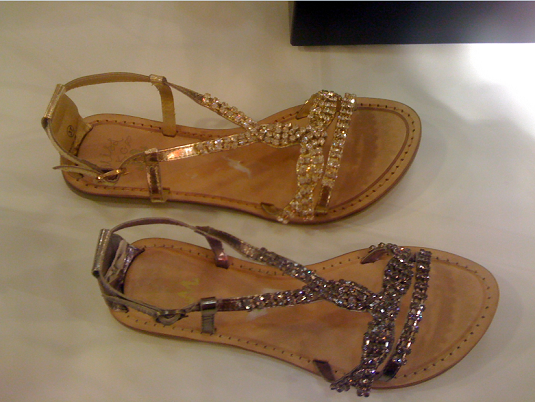 Above: Peep toe flats (Faith), Thong sandals (Faith), Gold sandals (Miss KG), Diamante sandals (Dune), gold cystal sandals (Red Herring).
White satin pumps are a) pretty ugly to look at and b) not the kind of shoes I would wear ever again, so I immediately dismissed those. So my next thought was to look at sandals: I wear sandals every day in the summer and would definitely get wear out of them after the event. How do you make a sandal semi- dressy? Make it metallic and throw diamante at it, of course! I love the Dune ones in gold, but worry the high back would irritate in the heat. The crystal Red Herring ones are my second favourite, because I would definitely wear these again on my honeymoon.
What do you think? Can flat shoes be dressy? Can you wear flat sandals on your wedding day? Or do you only feel like your dressed up to go out when you have your highest heels on?
Love, Tor xx