Hi guys,
Yesterday I went on a mini shopping spree on Oxford street with lil sis. With Mothers day, and my mum's, dad's and other lil sis's birthdays all being celebrated this month, I had a lot of presents to buy! But I also managed to pick up a little gift for myself, and I am completely obsessed with it: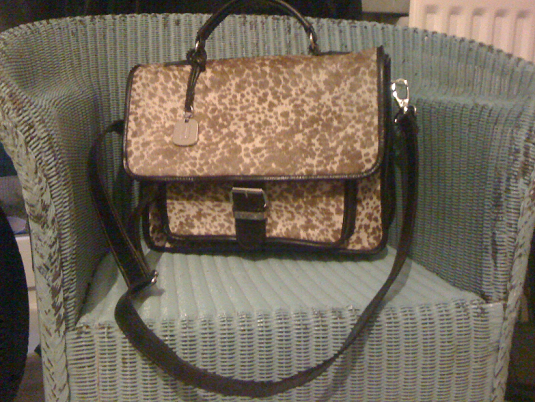 This yummy satchel is from the Betty Jackson. Black diffusion range
at Debenhams
. It's 100% leather and has a great tan pony print design all over the front panels. Without sounding like a complete geek, it is the most lifestyle friendly bag i've owned for ages: it has hundreds of pockets and compartments for all my handbag junk, and even has a built in key hook, so i'll never have to rummage around in my bag for my keys ever again!
It was also an absolute bargain, reduced from £150 to £75 in Debenhams current sale.
You're going to see a lot of this bag in coming months: its so light, roomy, and easy to carry that it is going to be my go-to everyday bag for the spring/summer months.
Love, Tor xx