It's officially mid-season sale time: the River Island sale started today (more of that to come!) and then I got an email letting me know that the
Warehouse.co.uk
sale had an extra 20% off sale prices: and there's also a code for free delivery! Obviously I had no choice but to check out their site and bring you a list of my favourite and most bargainalicious pieces!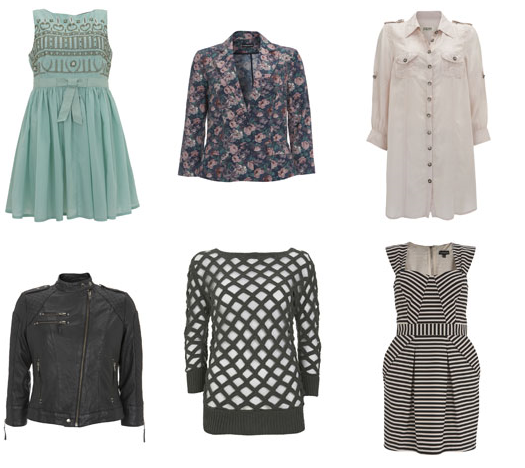 Green embroidered dress, now £10. Rose print blazer, now £15. Silk shirt, now £15. Biker jacket, now £80. Crochet jumper, now £20. Stripe dress, £30.
I loved the green dress and couldn't believe what a bargain it is, especially given its 100% cotton and the original price was £45. There were lots of prom shaped type dresses on the site, which would be perfect if you have a fancy Christmas party to go to (i'll be having a couple of pints in the pub!) and a great selection of fine knits, which I always find much more convenient than chunky ones for wearing around the house, and under coats. Speaking of knits, I couldn't resist that crochet jumper, which would look amazing contrasted against a floral tea dress, or worn simply with panelled leggings. My favourite piece though is the stripey dress: i'm addicted to dresses (note the name of the blog!) and that one would be perfect for taking from work to play!
There is a lot of left over summer stock in the Warehouse sale, but also some great bits to see you through the winter: personally i'm delighted to see all the summer stuff in store, at it means I can pick up some bits and bobs for my honeymoon, but at bargain prices!
To Save your extra 20% off all Sale items plus free standard delivery
, follow the big ugly link, and then put FREEDEL1 in at the checkout. I'm being good and saving my pennies at the moment, but i'm not sure how long that will last with so many great sale offers around....
Love, Tor xx