Hi guys,
I know it's early to be thinking about Christmas, but yesterday I spent the day with my sisters starting our Christmas craft projects: we were making cards, gift tags, and felt Christmas tree decorations! The problem with crafting is that the more you do, the more you think you can do: I've even starting drawing designs for personalised Brierley-family Christmas
T-Shirts
!
Because i'm a girl that likes stuff, thinking about Christmas got me thinking about presents. So I thought now would be a great time to write my Christmas gift list (part one!) I'm sure this is a list that will change several times before December!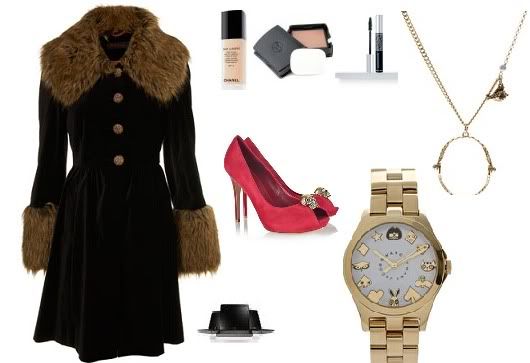 -The coat is from Miss Selfridge. I don't need a new winter coat, but this one taunts me: every time i'm in Miss Selfridge it's there, looking all gorgeous and tempting when I know I shouldn't buy it!
-Chanel and Dior make up. I am a very lucky girl, as this is actually what mum and dad are buying me for Christmas! I am doing my own make up for the wedding, and I will be doing it with the finest of products (I find this really exciting!)
- I love
Disney couture
accessories, and for me, this is the best piece in the new collection! It is a sharks jaw necklace from
The little Mermaid
.
- Sigh and drool all over this Marc Jacobs watch I found on
Asos
. It will be mine!
- I would love a
new computer.
The best thing about writing a fictional list is that you can get really unrealistic, and I would love a notebook so that I could blog on the go!
- Also on the unrealistic gifts list are these
Alexander McQueen heels
. It was absolutely love at first sight! I really want to wear red designer shoes under my wedding dress and these could be the winners - please let them go to half price in the January sales!
With all of these gifts on my Christmas list, I suppose it's time to start
saving
for the January sales!
Love, Tor xxx