Hi guys,
The weather has turned, and it is
cold
! Not dig out your gloves and stick a hat on your head cold, but definitely winter coat and boots cold. Luckily this is my favourite time of the year: I love wearing layers, I love wrapping up warm, and I love having the chance to dig out my vast collection of coats! Here's how i'm protecting myself from the elements today: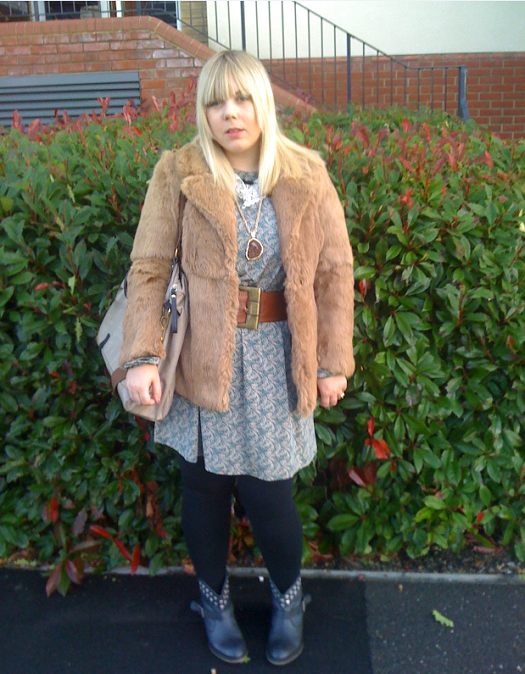 Dress: River Island, Jacket: Carboot sale find, Boots: TKMaxx, Bag: Joy, Belt: Primark, Necklace: River Island
The outfit would have looked better with either my tan clogs or wedge boots, but I just wanted to be comfortable! I love this jacket, and it was a bargain, as I picked it up on a car boot sale for just £5. Also a bargain was my necklace, which I picked up from the River Island sale for £3 (reduced from £14.99) The dolly dress is a little short, and i'm constantly pulling it down, but I just loved it's little lace collar. Here's a close up of it, and the other details of the outfit: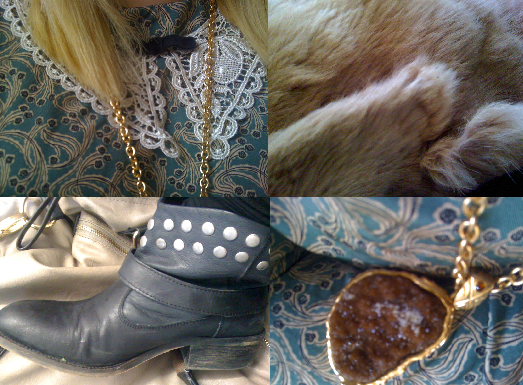 Underneath the dress I am wearing a thinsulate vest, and on my legs are very thick leggings. My office is pretty icy, so I wish i'd thrown a cardigan in my handbag for extra warmth too. How are you keeping warm today? Any tips on looking stylish and warm, without resorting to the wooly jumpers?
Love, Tor
PS - Have you completed the
fabfrocks user survey
yet? Not only will you win my eternal love, but you could also win a great prize too!!