Hi guys,
More winter wears, this time from
Debenhams
, where my coat obsession went into overdrive! I let myself try on my two favourite coats, then I tried on a couple of winter wardrobe staples, all from Red Herring (Debenhams has so many departments that I had to limit myself to one at a time!) Here are my picks: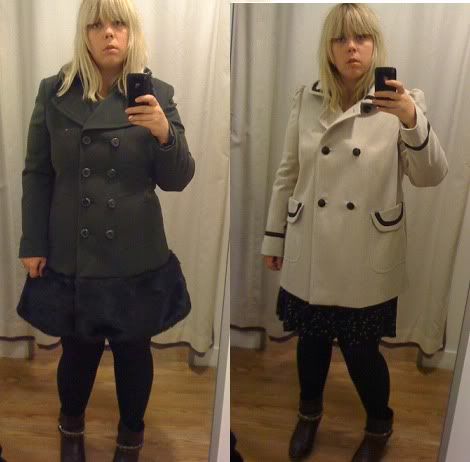 Oh coats, how I love thee! The military green coat with the fur trim had lots of Russian influence, and was a great fit, although the double breasted style doesn't really suit my shape, and this was further emphasised by how many buttons it has! My love of all things sailor meant I had to try on the second coat! It looked great from the front, but the swing shape meant it was massively oversized at the back.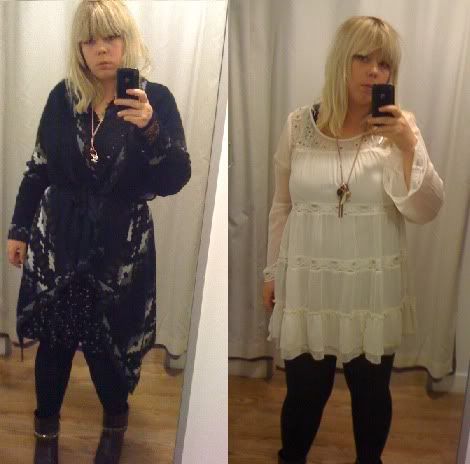 Loved this oversized blanket-cardigan, which had a great pattern, a great fit, and super-soft knit too: what more could a girl want!? The tiered hippie-style dress looked lovely, and I was obsessed with the wide sheer sleeves, but it was so short that I had to bend my knees slightly to protect my modesty, and i'm not tall! It would look great over jeggings or skinny jeans though.
I always get so excited about the
Designers at Debenhams
stuff when i'm in Debenhams that i'm guilty of overlooking Red Herring, but I think it's definitely worth checking out, particularly if you're in the need of new outerwear!
Love, Tor xx