Hi guys,
Reading stats like this makes you feel frightened and grateful it's not you (honest but true): Every year nearly 46,000 people receive the devastating news that they have breast cancer. This month alone, nearly 4,000 people will be told they have breast cancer and another 1,000 people will die from the disease.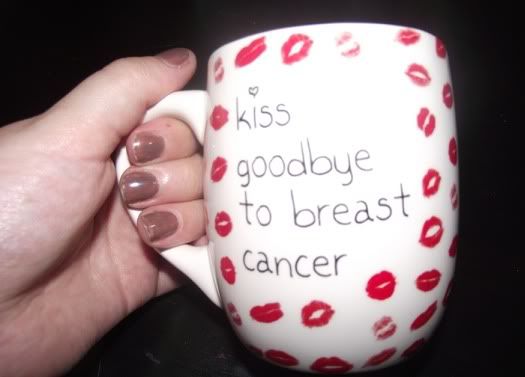 We're exactly halfway through breast cancer awareness month today. We all know someone who's been affected by cancer, and breast cancer is the cancer than occurs most in women under 35: that's women like us! I'm not about to start preaching at you all to remember to check your breasts, but fondling yourself every now and again isn't too hard, is it? It could save your life.
So now it's on the inevitable "show you support" bit! Don't worry, i'm not about to attempt to run a marathon (i'd bloody kill myself!) or sit around in a bath tub full of jelly. There's no sponsorship required. Supporting breast cancer awareness is so easy this month: all you have to do is shop!
You can visit the
breakthrough breast cancer website
to see the big range of pink products they have available, which big chunks of the product cost going straight to the charity. Every single penny makes a real difference to the lifesaving work this charity does.
I'm wearing my pink ribbon on my jacket. You can pick them up from just about every highstreet store and supermarket. I am going to call them this months ultimate style statement! Are you wearing yours?
Love, Tor xx