Hi guys,
Well so much for my talk of lovely weather on Saturday: it looks like the rain in back with avengance, and set to stay, which might well make today's post obselite. I've been looking for a pair of
shoes for summer
that are fancy enough to wear with dresses for evening events, but comfy enough that I can wear them to work all day first, without having aching feet! (my
sarenza clogs
are perfect, and so comfy, but a bit too chunky to wear for evening events)
I decided what I needed was a low heel with a peep toe (for comfort) with some embellishment and detailing (for style). A harder shoe to find than you'd think! My search led me to
Zalando
. Here are my shortlisted shoes: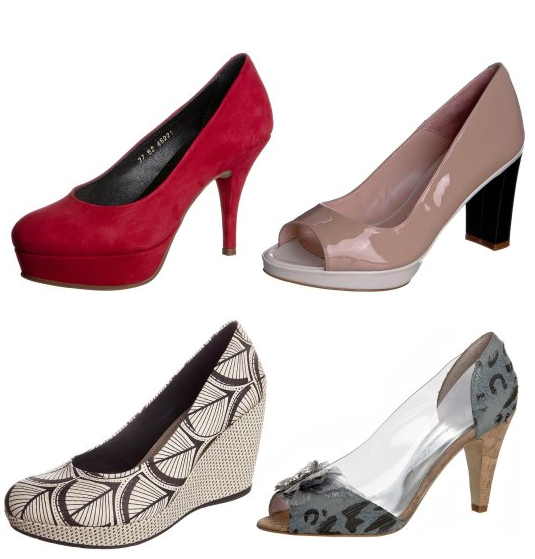 Gianni di Firenze red shoes: £114.95, Paco Gil tan shoes: £179.95, Vagabond wedges: £59.95, BF leopard peep toes: £110.
And why am I so keen to find these magical glamourous-looking low but comfortable heels, I hear you ask? Because my hen 'do is less than a month away (We're going to see
Pricilla Queen of the desert
, then food, then a night of dancing and drinking in my favourite cocktail bar) and because it is a day to evening affair (culminating in dancing the night away) I want to shun my usual killer stilettos in favour of
cute summer shoes
that won't leave my crying half way through the event (and ruin my night/feet). It all sounds perfect, and idealistic. And I really hope I find the low heels of my dreams. But knowing me, i'll end up throwing on those killer heels that look so good and dancing around my hand bag in them anyway: using the well-known anaesthetic of cocktails to ease the pain!
Love, Tor x
*This is a sponsored post