Hi guys,
When I was a little girl dreaming about getting married, and living in my own house with purple walls (I wasn't much of a feminist was I) I didn't really think that practically. It didn't occur to my that my 'own house' would be rented, rather than owned by me, and the purple walls wouldn't be an option (With hindsight; Thank God).
With less than a month to go until my wedding, I am already thinking about my next project, which will be sorting out our rented house. And that got me thinking about all the ways you can make a rented home feel like your own, without painting the walls, changing the fittings, or doing anything else that might damage the structure of the place. For what they're worth, here are my tips: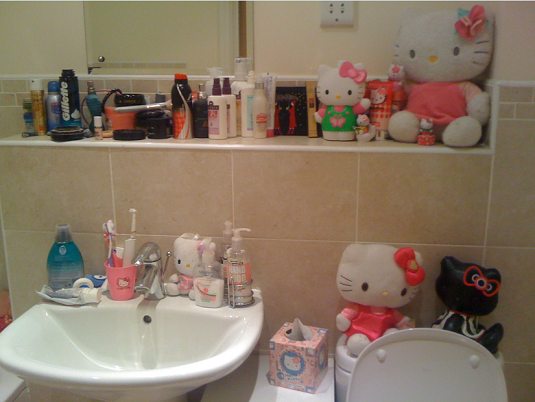 Hello Kitty bathrooms might not be for everyone but at least it's unique!
- Shop around for your
furniture
. Having everything from Ikea (or any one store) gives a really identikit feel, and emphasises that a home is rented. Instead mix up furniture from different stores, and if you're that way inclined, throw in some vintage or second hand furniture too, to give a nice lived in feel. My
living room furniture
is 70% Ikea (a hangover from everything we brought from there when we first moved in together) and 30% vintage/second hand. The room really didn't start to feel like home until we added in the older pieces.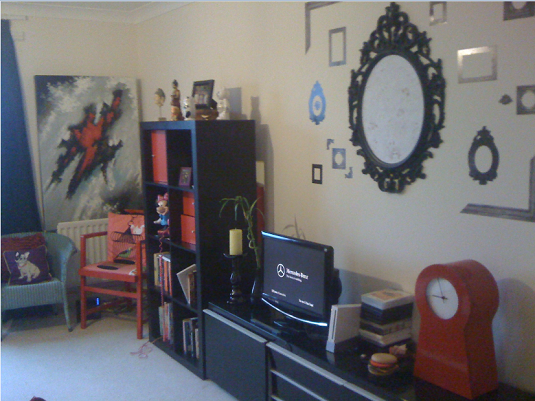 My living room: yup, it's an Ikea fest!
- Change the
curtains
and light fittings. Almost all rented homes come with horrible cheap white ones: it costs very little to change them, but makes a massive difference to a room, and really brightens it up!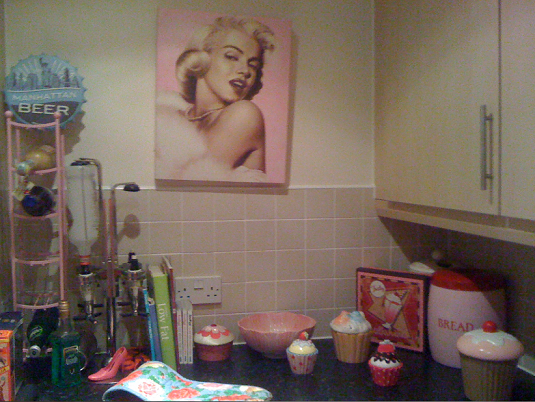 I wanted an American diner style kitchen: i'm working on it!
- Finally, make some stuff yourself! The bunting that hangs above our bed and half of our living room cushions were made by me. My next projects are to paint the dark wood chair and foot stool I got as extra tv viewing space. It feels so good to know that noone else will have those individual pieces I made myself, and its loads cheaper than buying stuff new, if you've got the patience.
Love,
Tor
*sponsored post