Hi guys,
Someone in my office pointed out today that it is now exactly one month until Valentine's day. This was mentioned with excitement. For me, the news filled me with blah! I've never really cared very much for valentines day, regardless of whether i've been seeing someone or not. It feels weird to me that you have to set aside a day every year to remember to tell someone you love them: what a sad relationship that must be. And although i'm not the kind of gal to ever say no to a present (or two!) I don't like the idea that poor chaps are bullied into buying presents they can't afford by the media, otherwise 'they don't really love you'.
As this is (technically) my last Valentine's as a single girl though, I do intent to get dressed up and go for cocktails with some of my other single gals. I hope this is more of a reflection of how I feel about cocktails, not how I feel about Valentine's day. So I thought it would be fun to create the perfect shopping lists for Valentine's day, depending on whether you love it or hate it:
Love Valentines day: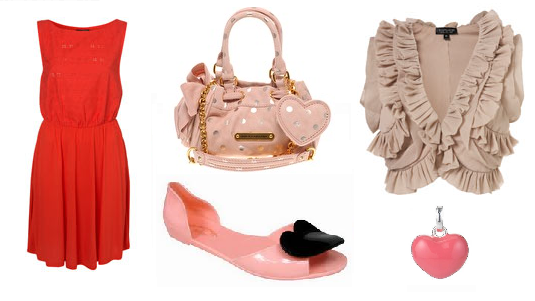 Heart necklace
: Molly Brown London, Heart embroidered dress: Topshop, Heart shoes: Vivienne Westwood at Melissa, Ruffle bolero: Topshop, Heart bag, Juicy Couture.
The heart embroidered dress, the ridiculously cute pink heart necklace, the candy pink and red colour palette: everything here screams 'I love Valentine's day' whilst also looking feminine and sexy. I especially love the ruffle bolero, and for me ruffles are the ultimate feminine and romantic statement. This would look great teamed with a sheer cream dress and towering gold heels.
Hate Valentines day: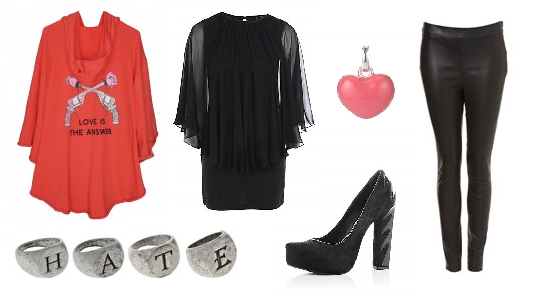 Hate rings: ASOS, Leather trousers: Topshop, Love is the answer poncho:

, Black platforms: River Island, Black cape dress: River Island,
The opposite of love is hate, and hate of course is a feeling of darkness, so for an anti-Valentine's day feel I went for lots of black rock-chick pieces, but with a feminine twist (mention of love on the Wildfox Tshirt, and that lovely pink heart necklace yet again) Anti-Valentine's day sentiment is fine, but anti-Valentine's anger is just scary: plus I can't resist including a bit of pink!
Where do you sit on the Valentines day scale? Do you get excited about another excuse for celebration, or just wish it would go away? And are you cursing me for mentioning it a whole month before it actually happens? (Sorry!)
Love, Tor xx