Hi guys,
I never thought i'd say this, but I am getting seriously bored of wearing head to toe black. Black is my favourite colour to wear, but during the winter generally the only colours I break it up with are charcoal grey, or if i'm feeling really adventurous, brown. I can't wait for spring to arrive so that I can start wearing my lovely floral dresses again!
I'm on a pre-wedding shopping ban, so I can't go out and buy new winter dresses in jewel shades (my dream way to dress at this time of year) which means i'm stuck with the black dresses: classic and flattering but not always that exciting. But I did think of a cheap and cheerful way to brighten up the black and inject some colour into my wardrobe: tights.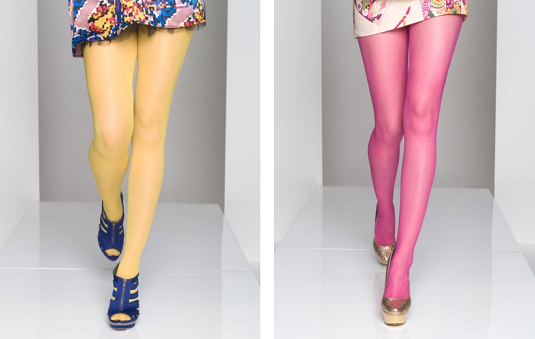 Jonathan Aston: Yellow opaque tights. Jonathan Aston: Pink sheer tights.
A pair of tights in a vibrant colour can make an outfit look completely different. I have a wide pink leather belt which I love, but never wear: I could throw it over my favourite black dress and add these pink tights for a coordinated work wear look that would look much more exciting that my usual drab offerings! I love the amazing colour of these yellow tights, but I just don't think I have the legs to pull off yellow however they'd look great poking out of the bottom of my ankle length hareem pants teamed with brogues, and they'd keep my legs warm too: result!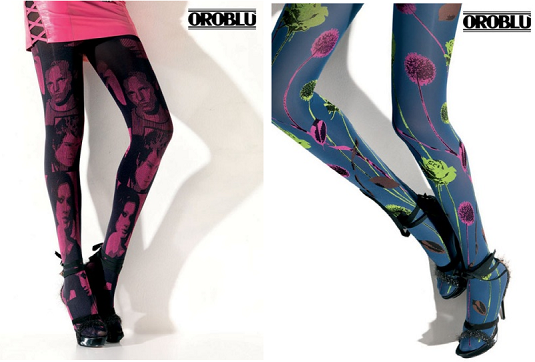 Miss Oroblu: celebrity tights. Miss Oroblu: floral print tights.
I love patterned
tights
: they're like works of leg art! Sadly, my legs just aren't a good enough canvas for the beautiful art and patterned tights stretch out and make me look much wider. It has to be plain block coloured tights for me!
If I go out and buy 4 pairs of tights in lovely jewel colours then I can jazz up my wardrobe all the way until Spring (is it too early to think about Spring? I'm so ready for it to arrive!) and all for less than the cost of a new top I probably won't ever wear from Topshop! Now that's shopping I can justify! (Just don't tell the fiance: I promised not to shop until after the wedding. Shhhhh!)
Love, Tor x
This is a sponsored post on behalf of mytights.com