This is definitely going to be one of those self-centred "look at all the great shoes I have" posts, but i've made my peace with that!
You may remember that back in April I went on a tour of the
Dr Marten factory
and as well as it being a fascinating day, they also said that they would send me a pair of boots of my choice. Four months later (and completely out of the blue as i'd forgotten all about it!) and I finally have my hands on these beauties: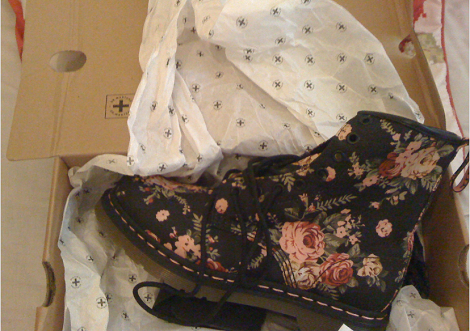 The pattern on them is a Victorian rose, and the detail I love most is the pink stitching: it's interesting to add a girly slant to what is essentially a masculine boot. They also come with pink ribbons that can be used to replace the laces. I have no idea what i'll wear these with, but I can't wait to give it a go!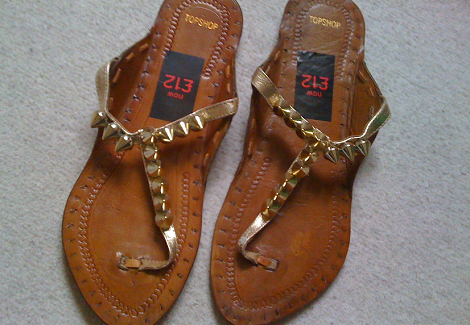 Next on my list of lovely shoes are these sandals from the Topshop sale: leather and studs and lovely gold. What more could you look for in a sandal!? They were in the sale for just £12 (as you can see) and I actually got these to save for my honeymoon: I don't own any sandals or flipflops that don't have hundreds of straps, and I know for our trip i'll need something simple and slip on, and these fit the bill perfectly.
Finally, whilst I was on
my mamouth trip to New Look last week
, I picked up these heeled desert boots: they will be my new winter staple shoes. The picture isn't very good (because the boots are on my feet!) but that's just testiment to how comfortable they are! New Look actually had a really big selection of reasonably prices winter boots (both flat and heeled) that I think would be well worth checking out if you need a new pair.
I know this was a bit like "show and tell" at school (only with legos!) but I had to show off my wonderful new foot fashion!
Love, Tor xx