I love my accessories: I think they make an outfit, especially because I dress quite plainly most of the time. That means that i'm crazy about shoes and handbags (not to mention my love of oversized jewels!) So how delighted was I when
Marc B
asked if i'd like to review one of their bags?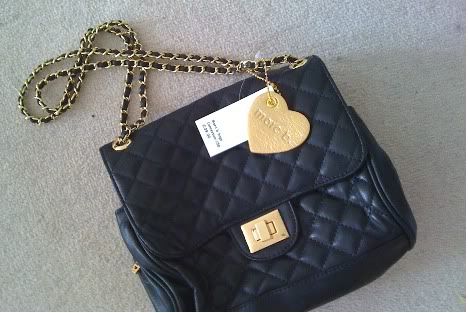 The answer is, pretty delighted! The website is very funky and easy to navigate, which made choosing my bag stress-free. I couldn't decided whether to go for my usual oversized holdall-type bag, or something a little more delicate. I opted for the latter, and chose the Knightsbridge bag in classic black. Apparently i'm in good company: it's one of the brands best sellers!
I went for the matt black, but the bag also comes in a patent black and an array or bold and pastel colours. The gold strap can be switched around so you can wear the bag two ways: which a long strap (which is long enough to go across your body) or a short shoulder bag-type strap. Looking at their site, it seems the chain handle is something of a specialism for them, and they do it really well. Obviously when you look at this bag you draw immediate comparisons to a Chanel, as the style and quilting are so similar. This didn't bother me as much as I thought it would though, as it's such a lovely bag.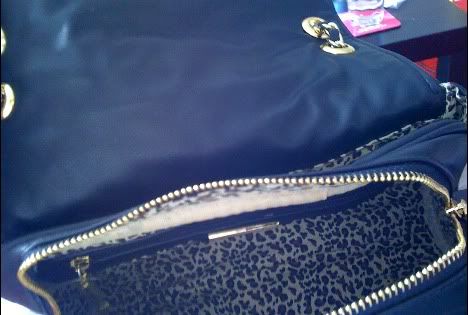 On a boring and practical front, the thing I loved most about the bag was the inside: it has so many pockets and zip up areas which makes this the perfect bag for a day trip or holiday. You could put your cash/camera in the very middle zip up pocket, and it would be impossible for anyone to pickpocket you. Also, the lining of the bag is leopard print, which I love !
The bag is slightly too small to contain everything I carry on a day to day basis (it's a tad too narrow to fit my filofax in) but everything else fits in like a charm. This would be a perfect bag for a day when I wanted to be more streamlined: for example for going out after work, going to a gig, or a daytrip when i'm on holiday. I think it's lovely, and overall i'm really pleased with it!
Love, Tor xx