The summer sales are coming to an end (for now at least, no doubt there will be more at the actual end of the summer) and this means there are massive discounts to be had, if you're prepared to rummage for them. Granted, a lot of stuff let in the sales at this stage is mostly rubbish, hence it being left on the shelf for so long, but if you're a non-standard size and prepared to put the work in, you could bag some bargains and save yourself a fortune.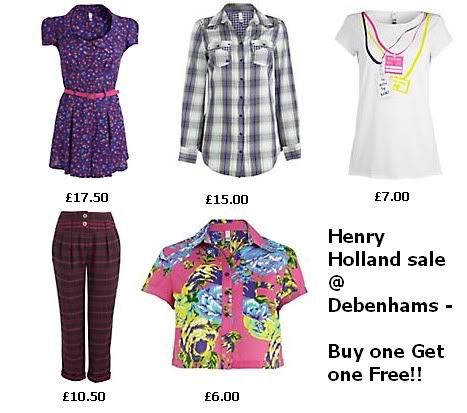 -The
Debenhams sale
is now buy one item get one free, instore but not online. One of my cousins had given my nan a Debenhams gift voucher, which she asked me to spend for her (as she doesn't live near a Debenhams) I got her 6 tops for £20. All of the summery Henry Holland stuff in the sale is also included in this 2 for 1 deal: definitely worth checking out, especially if you live out of central London, where the sales have been very picked over. I was in the Milton Keynes store yesterday, and there were 3 rails full of Henry Holland sale in a big range of sizes.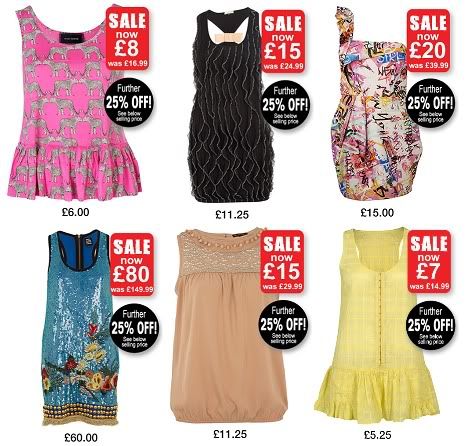 - The River Island sale now has an extra 25% off all sale prices. I'm a massive River Island fan anyway, and always get a large proportion of my wardrobe from their end of season sales, so this offer was too tempting to miss out on! Since the extra discount was added i've picked up a top and three dresses: the top is for wearing now and into the Autumn. The dresses are being stored and saved for my honeymoon: we need to dress for dinner in our hotel, and I don't really own any dressy clothes, so I thought i'd pick some up while they were in the sale! I'll take proper photos later but for now here is my pick from what's left of the sale on the website.
- OTHER SALES: The House of Fraser sale ends today, and has an extra 25% off all sale prices. The Oasis and Warehouse sales are still one, with further reductions, although stock is now limited. The vast majority of the Monsoon sale is now 70% off, and if you're one to plan ahead they have a great selection of sequinned and little black dresses perfect for Christmas parties.
If you're stuck for something to do this afternoon then hit the shops before the sales end: we're in the last few days now, and you're bound to find some hidden treasures!
Love, Tor xxx