Hi guys,
I've been spending a lot of time lately planning, researching and updating my spring/summer wardrobe. I didn't buy any new clothes last summer, and the summer before I was pregnant, so my summer wardrobe is in dire need of an update. We are also going on holiday in the first week of May, making buying outfits perfect for sunnier climes even more important.
I've always loved kimonos, but it looks like this year the kimono has had an update: enter the kimono jacket! I love kimonos because they're so versatile: you can dress them up or down. Their naturally slouchy fit also makes them incredibly flattering and they're a great cover up on cool summer evenings or when you want to protect your shoulders from the summer sun. Have I sold them to you yet?! If not, check out these gorgeous ones from
Topshop
: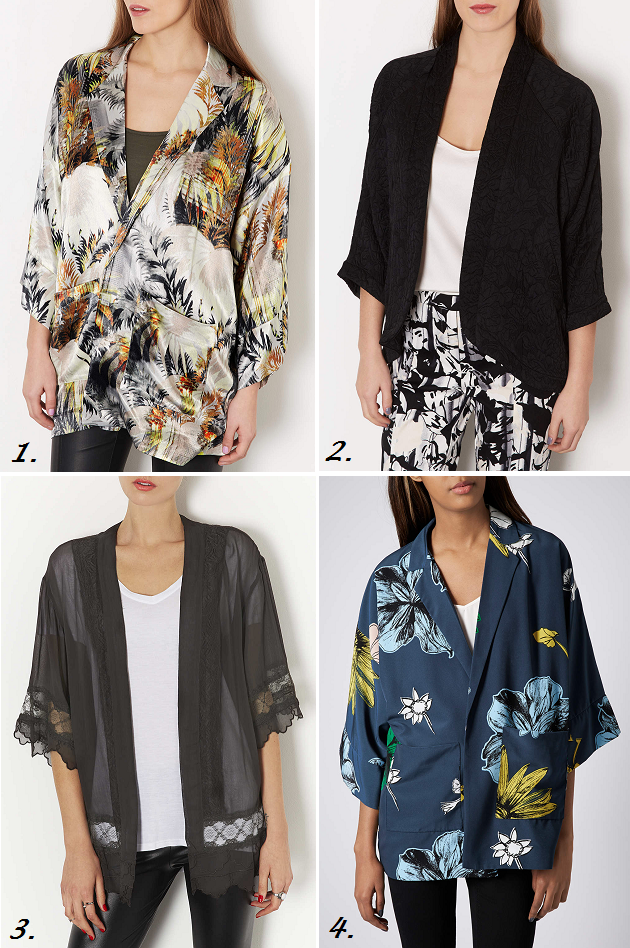 Luxe palm kimono jacket, £68
Black jacquard kimono jacket, £60
Lace detail kimono, £45
Floral kimono jacket, £60
I already have that lace detail kimono (I bought it last October) and I'm planning on adding that floral one to my wardrobe asap. It will look awesome with stripey breton tees and denim in the early spring and slip vests and boyfriend shorts in the summer. I know it's not for everyone, but I even love the way kimono jackets look when they're worn open over loose fitting shift dresses: volume is one of my favourite summer looks!
What do you think about kimono jackets - will one be making its way into your new season wardrobe? And have you started shopping for your spring/summer wardrobe yet, or am I talking about this a little too early?
Love Tor x