Hi guys,
London Fashion Week in in full swing. Meanwhile, I am safely ensconced in my living room watching occasional shows live streaming but mostly helping with the renovations on our house (my dad and hubby stripped our staircase this weekend - I can't wait to get it painted!)
I feel like LFW has moved on a lot, from a bloggers point of view, since I first started attending shows six years ago. Live streaming has exploded and the public's interest in seeing the shows as they happen has been recognised. I genuinely think I can get the same perspective on the shows by watching them at home: Well, what's what I'm telling myself whilst Wilbur is small and needs me here, at least!
Meanwhile what I got really excited about was seeing all the celebs wearing
Topshop
at the Topshop Unique show. I love Topshop, and the Topshop Unique show is one of my faves: mostly because I can actually afford to buy all of the pieces I fall in love with! So seeing celebs wearing Topshop (including some of the pieces I actually have in my wardrobe) is pretty inspirational and a great way to get new styling ideas: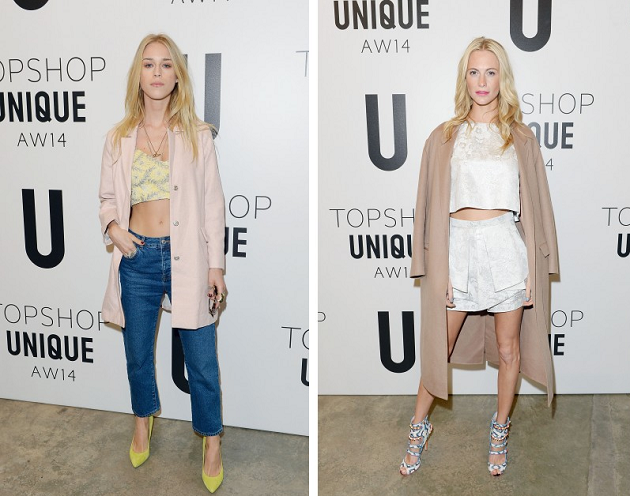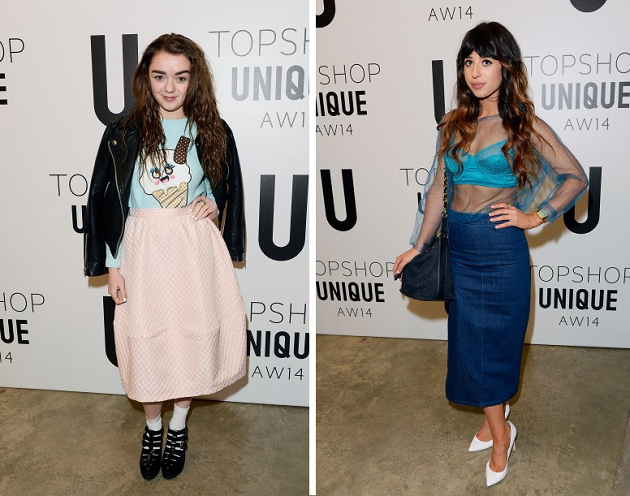 For any dedicated celeb spotters, here is a full list of the celebs that attended the show: Kate Moss, Lottie Moss, Kendall Jenner, Ashley Madekwe, MIA, Daisy Lowe, Poppy Delevingne, FOXES, Leigh Lezark, Sophie McShera, Maisie Williams, Harley Viera-Newton, Chelsea Leyland, Jessica Gomes, Atlanta de Cadenet, Sibel Kekilli, MØ, Tallulah Harlech, Tao Okomoto, Chloe Norgaard, Portia Freeman and Mary Charteris
I am not loving Kate Moss's sexy-commando jumpsuit (although like everything, she manages to pull it off) but I do love the way Maisie Williams has styled that voluminous powder pink skirt: something I fell in love with and bought immediately, but realistically have no ideas how to wear! (You can
buy that skirt for yourself right here!
) One of the best things about Topshop, for me, is that it covers so many wearable and covetable trends at a price everyone can afford. From the multi-millionaire Oligarch to the skinny super model to the trendy shop girl to the (ahem) slightly podgy mum!
What has your favourite London Fashion Week show been so far? And are you watching any of the shows life stream at home?
Love Tor x