Hi guys,
I know it's summer and we should all be padding around in our flip flops. But realistically, with all this rain we've been having, the ideal pair of summer shoes right now is a pair of
ankle boots
. I have had my black studded ankle boots on nearly every day for the past couple of weeks. They go with everything, but they don't really feel too summery. But luckily, ankle boots don't have to be wintery: you can buy summer ankle boots too! I love these rainbow striped boots from
United Nude
and they would just be perfect for wearing right now.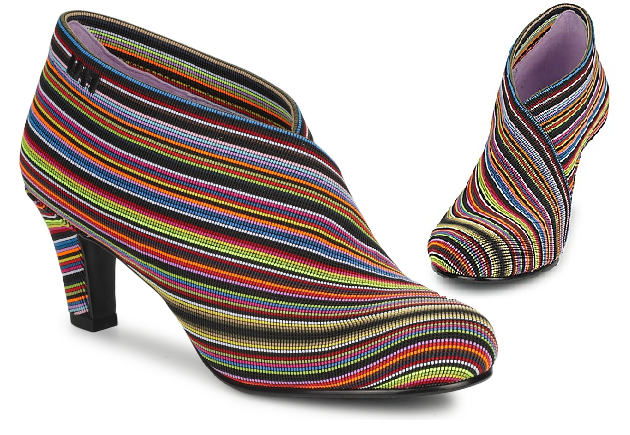 They're made from a mix of leather and textile, and the low heel means you could wear them all day without any foot discomfort: the holy grail of shoes! I really like United Nude shoes: they're always really unusual, and wearing a pair is such an easy way to make a statement.
The Spartoo sale is still going strong, so these shoes have 20% off: reduced from £145.99 to £116.79. If you want a pair of your own you can
buy them here
. I have an orange chiffon dress from Topshop that these would look amazing with. They'd also look great with basic silk vests and jeans: they'd make a really simple outfit like that look really on trend.
What shoes are you wearing in all this horrible summer rain? Are you back in your winter boots like me, or are you risking getting wet toes in your flip flops because, godammit, it's July! I'd love to hear your thoughts.
Love Tor x
* Post written as part of a new partnership with Spartoo
shoes