Hi guys,
I have massively exciting family news this week, which has left me with a huge smile on my face. My little sister Amie is getting married, and I am going to be the (incredibly old sounding) Matron of Honour for the occasion. That means whenever I have been doing any online shopping, I have been deviating towards anything vaguely bridal: think
dainty metallic shoes
and accessories, floaty lace dresses, and I had a very enjoyable hour looking at the Dreamboys website too (For hen 'do research purposes, of course!)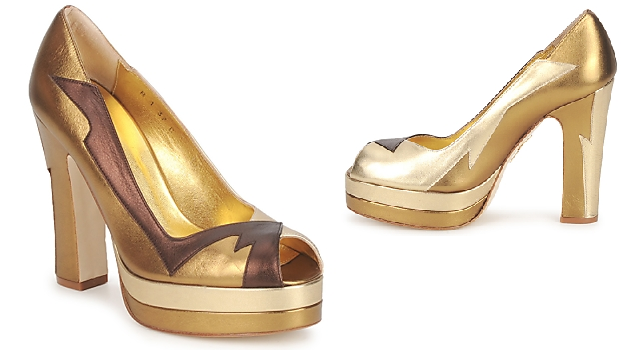 When I was busy shopping for shoes for another wedding I have to do to next month, probably because I was still thinking about Amie, these
incredible gold Terry de Haviland shoes
just jumped out at me. Wouldn't these make amazing bridal shoes for a modern, fashion-forward bride?! I've never been much of a fan of delicate and dainty shoes, so these are perfect for me from that point of view. They would look amazing with a dress that showed a little ankle, or even peeping out from under a floor length sheath dress.
I am thinking of getting these for the wedding I am going to (as a guest) in September: they have been reduced in the sale from £353.99 to £212.39 so from a price point of view they're a damn bargain! And the beauty of a statement shoe like this is that you can wear such a simple outfit with them and still look good for any occasion. I love wearing simple black dresses for almost everything, which means I can get away with wearing almost any shoe I like: the more ornate the better, in my opinion!
What do you think? Would you wear a pair of shoes like this for your wedding?
Love Tor x
*Post written as part of a new partnership with Spartoo shoes