Hi guys,
I went into Primark last week, and it was genuinely the best Primark visit I have had for a long time. There were tops, frocks, even shoes and sunglasses that jumped off the shelves at me and that I immediately wanted to buy. I didn't: I'm still trying to avoid Primark and focus on buying quality items. But I officially think that Primark have got their trends and key pieces for this Spring/Summer 100% right, when bearing in mind their low product price points.
All of this is in store now/going in store this week: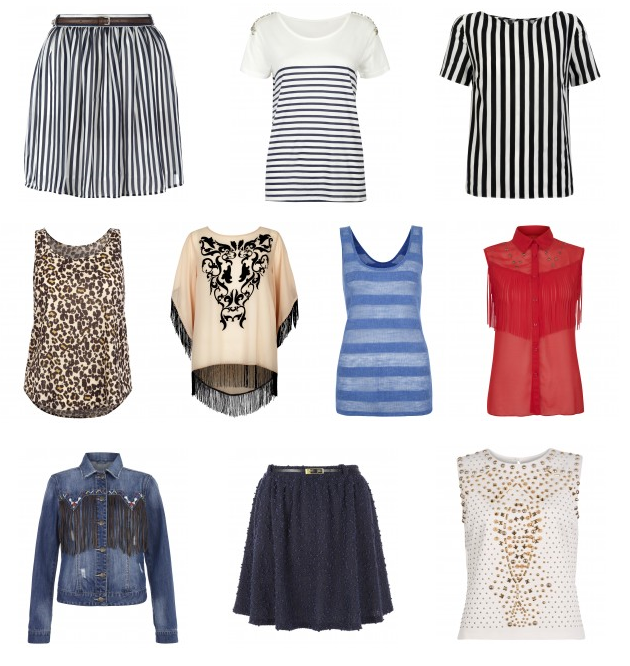 Belted chiffon skater skirt, £6. Gem shoulder stripe T, £6. Scallop neck striped top, £10.
Leopard print vest, £3.50. Flock tassle blouse, £12. Striped knitted vest, £5. Tassle stud blouse, £10.
Navajo denim jacket, £23. Textured skater skirt, £10. Limited edition studded shell top, £20.
The key must-have products from this selection, for me, are the scalloped striped top and the Navajo detailed denim jacket. Both pieces are seriously on-trend and versatile. Picture the striped top with either a midi skirt and heels. Or a varsity jacket and jeans. And the Navajo denim jacket was made to give a casual touch to pretty summer dresses. I also have a soft spot for the tassled blouse. it would be so flattering on a mum tum, and easy to throw on with jeans and pretty flat sandals or ballet pumps.
Have you had any Primark bargains lately? And have you been in store to check out their new Spring/Summer stock? If you have, I'd love to know what pieces you've picked up. Go on, make me jealous!!
Love Tor x