Hi guys,
The
River Island
sale started yesterday, so of course I immediately popped (read: ran!) down to my local store to check it out. I tried on seven dresses but eventually left with a classic Breton striped jumper (£12) and a huge black leather bucket bag (£40): Both timeless investment pieces, rather than the frivolous sale purchases I usually impulse buy and never wear!
However there was much more on their website than I found in my local store: there weren't any of the goodies I had been lusting after in the Norwich branch! So rather than show you pictures of everything I bought like I usually do (because a picture of a bag and a jumper isn't much of a post!) I thought I would create my picks of the best stock left online. There are some amazing bargains to be had if you're quick, much of it from the River Island new S/S13 lines: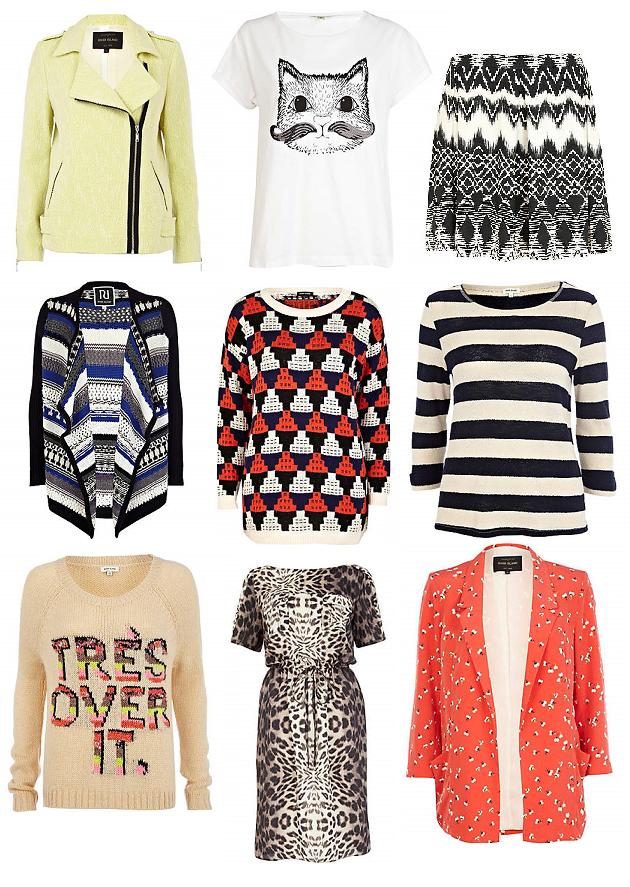 Lime tweed oversized biker jacket: was £70 now £30
Cat moustache T shirt: was £18 now £7
Black Aztec print skater skirt: was £20 now £10
Blue tribal waterfall cardigan: was £48 now £25
Navy and cream knit jumper: was £22 now £12
Space invaders jumper dress: was £45 now £15
Tres over it jumper: was £38 now £15
Brown leopard print dress: was £35 now £15
Red ditzy print blazer: was £45 now £20
The stripey jumper is the jumper I picked up! It looks great on and has a really great fit, so it comes heartily recommended. I also really love the lime green biker jacket, and can't resist the moustached cat T shirt: I'm half glad they didn't have it in my local branch though. That's exactly the kind of thing I would impulse buy without thinking and then never wear because, let's face it, I'm way too old for cat clothes!
Have you checked out the River Island sale yet? Had any bargains? I'd love to hear all about them!
Love Tor x