Hi guys,
Tomorrow I fly off to Venice and will therefore be completely missing the first week of the Olympics. But that doesn't mean that, like nearly everyone else in the country, I am not very excited to see the Opening Ceremony tonight. Because I am!
But the Olympics isn't just the greatest sports event on earth; it's also a great big fashion spectacle. Stella McCartney has designed the Team GB kit. Ralph Lauren waved the flag for the American teams. And Giorgio Armani created the Italian teams uniforms. But what about us? Of course you can buy the Stella McCartney pieces, but if you're not really the
sport type
there have to be some options for showing your patriotism during the Olympics, and looking stylish at the same time. Well, here are some of the ideas I've come up with: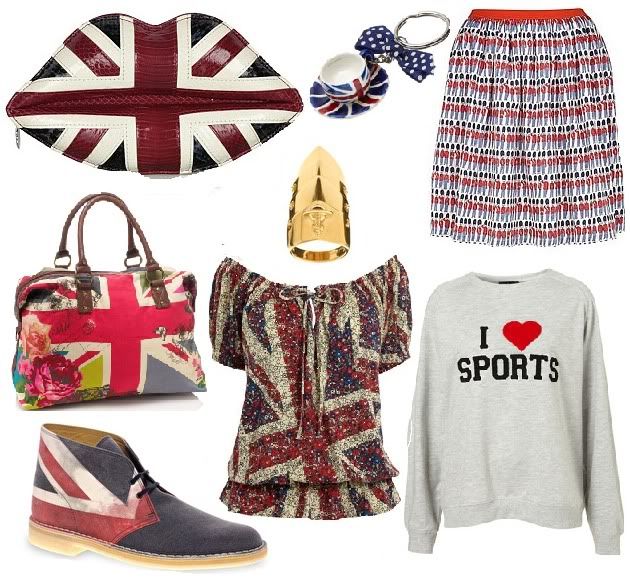 Union jack lips clutch, Lulu Guinness, £475
London soldiers print skirt, Cath Kidston, £35
Union jack holdall, Accessorize, £40
Union jack teacup keyring, Accessorize, £5
Ashish I love Sports sweater, Topshop, £50
Union Jack floral top, Next, £16
Union Jack dessert boots, Clarks, £53
Vivienne Westwood armour ring, Asos, £185
Am you excited about the approaching Olympics? Will you be flying the flag and donning your red, white, and blue? Or are you a little bit fed up of all the hype? I'd love to hear your thoughts!
Love Tor x