Hi guys,
We probably all know of
Hotter shoes:
their uninspiring TV adverts show middle aged women beaming delightedly whilst wearing chunky, slightly unattractive shoes. But actually, there's a new side to the Hotter Comfort Concept: and it's one I can definitely get behind!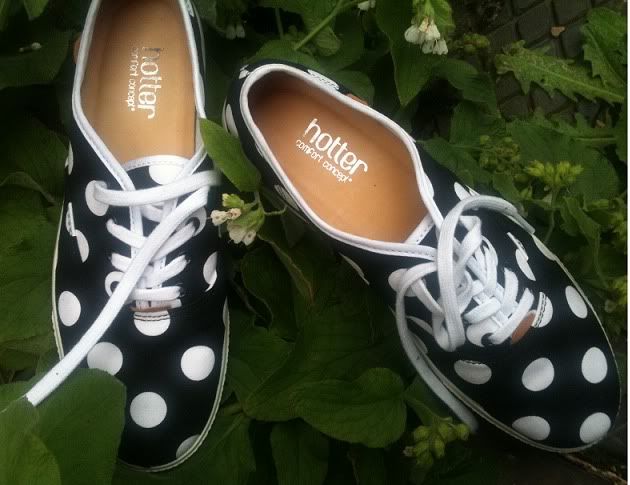 I was sent a pair of their new
Mabel canvas lace up pumps
. And they're so comfortable, I don't know if I'll ever be able to bring myself to take them off! They look seriously cool (I've worn them with leggings and jeans and they look cool with both) which is the key factor when I'm choosing shoes, but they also feel fantastic. Despite the fact the shoes are made of canvas, they have a cushioned, breathable sole which means you can walk around in them all day without any rubbing or pain - and that's tried and tested!!
The tan leather tabs are a nice touch too: little detail touches like this always get my attention, and they're a sign of a quality and well-made shoe.
The pumps come in a variety of different patterns, including a nautical pinstripe and a Cath Kidston-esque ditzy floral. If you're not into patterns, they also come in a plain denim and a plain white.
The final verdict? For £45 these pumps are obviously more expensive than the similar styles you can pick up from Topshop or even Primark. I have a similar white primark pair I picked up for £4 in fact. But when it comes to comfort, there really in no comparision. And the way my feet feel at the end of the day (like I've been walking on cushions!) means that in my opinion, they're worth every penny.
Love Tor x
Disclosure: I was sent these shoes by Hotter for the purpose of this review.