As bizarre as they are, I love Christmas in July press days (the Mothercare one had toys, candy canes and sweets: way to my heart!) Last week I went to the Debenhams one to see what we would all be lusting after when the real festivities are upon us! The fashion area was very small, and I wasn't really taken with any of the very standard, traditional party-type dresses. But the accessories? I was in shoe and bag heaven!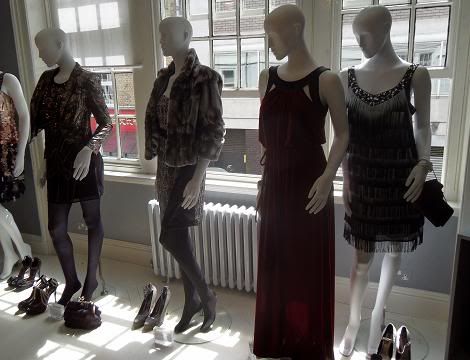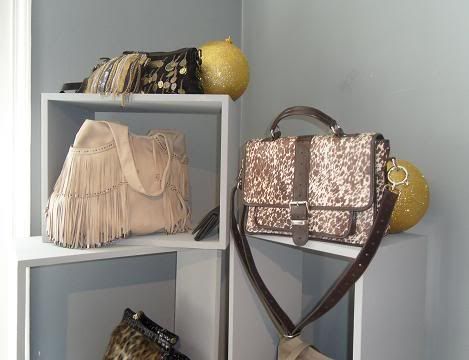 This pony-skin satchel was my favourite piece: really chic and cool, it would go with just about anything, and as an added bonus, I think i'd just about fit my laptop in it. In fact, I would be happy if any of the bags appeared under the tree from Santa: lots of oversized, structure, and nudes and browns. All things I like in a bag! After the bags I enjoyed the shoes. The pair I liked most is the one pair I didn't actually photograph: a pair of blush pink satin stillettos (Red Herring Limited Edition) with a black high gloss stiletto heel and a black corsage on each foot.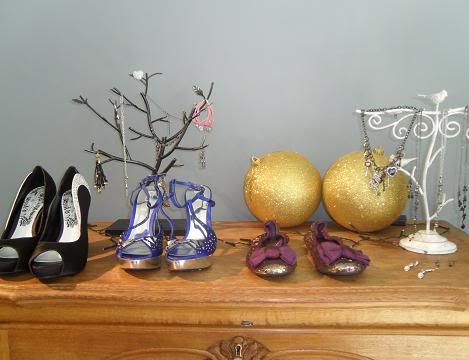 However it's summer shoes that i'm thinking about right now. I spent my gift voucher from the event on new underwear (you can never have enough and the debenhams sale is now 70% off their underwear department. I got a Fantasie set, and they had lots of brands and a range of sizes, especially bigger cups) and on new shoes. I opted for these gorgeous snakeskin lace up gladiators: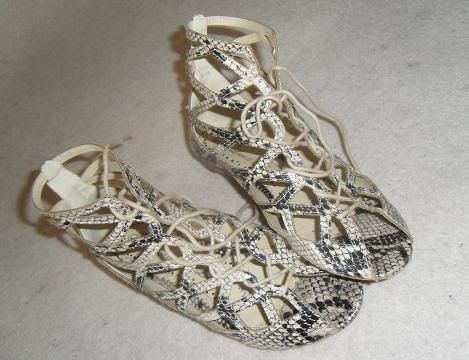 I've now worn them twice, and they are surprisingly comfortable, given the laces which I don't usually get on with. They're also as versatile as a pair of black gladiators but considerably less boring: they go with everything in my wardrobe, but still make a great focal point. And at £17.50 in the sale, they were a bargain too! It's hard for me to plan seasons in advance, and although the Christmas press day should've inspired me to buy some new winter boots, I just couldn't resist the lure of new sandals!
Love, Tor x