I have a massive soft spot for Vivienne Westwood: her draping and penchant for a nipped in waist is a dream for a girl with a body like mine. Her Spring/Summer 2011 Anglomania collection, which was shown in Paris today, certainly didn't disappoint! As is my tradition, here is a montage - review to follow!

The punky double denim looks great and nods to the wild Westwood past. (insert a wild west-wood joke here!) The return of waspies as outerwear (surely the next step in the underwear as outerwear affair we're having) Oh my! I love the femininity of it, the curves it creates, the dramatic effect and contrast when teamed with the full skirts. Elbow length gloves, normally reserved for weddings and teenage proms, are given a dramatically more rock-chick edge.
I'm a massive gingham fan, and I couldn't be more delighted to see it back on the catwalk. The second paisley dress, complete with straw hat, is a modern version of the 80s: think Julia Roberts at the races in Pretty Woman!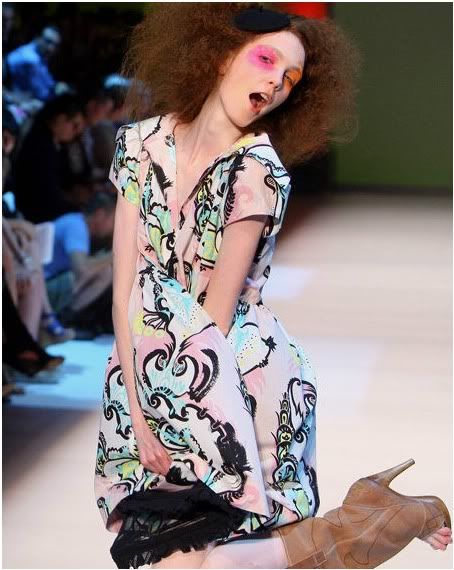 The prints in this collection are fabulous and simultaneously very wearable. The colours are bold and bright and everything has a touch of country and western: denim, waist coats, and check out those peep-toe cowboy boots! I only with this collection could hit the shops tomorrow: it's almost worth breaking into the wedding fund for!
Love, Tor xx