Hi guys,
I have a huge soft spot for Dorothy Perkins (or Dotty P's, as we call it in my neck of the woods!) Its just as trend led as some of the other Arcadia brands, but the styles are more wearable, the cuts are more forgiving. Basically, Dorothy Perkins is where the Topshop addicts turns when she has a baby: or at least, where this Topshop addict turned once she'd had her baby, and I can't get enough of it!
I love the changing seasons for so many reasons, but the main one is that it gives us the chance to hit the shops for our new season wardrobes. Here are my picks of the very best of summer from Dorothy Perkins, most of them new obsessions after seeing them in their promo video: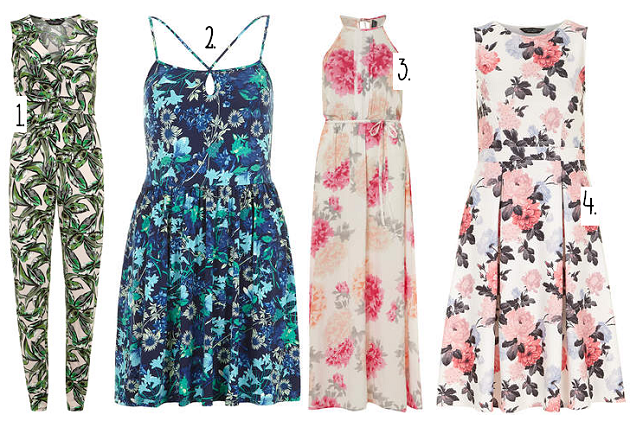 1. 1. Banana leaf print jumpsuit, from £35 to £24.50
2. Floral double strap dress, from £20 to £14.
3.Pink and White Floral Maxi Dress, from £30 to £27.
4. Floral neoprene dress, £28 to £22.50
I know everything I've picked is floral. I'm having something of a floral moment this summer: from ditzy florals to big blousy blooms they're all I want to wear. Luckily, Dorothy Perkins is the perfect highstreet store to scratch that flower-covered itch this season. There are so many different floral frocks on offer you're literally spoilt for choice! In fact, Dorothy Perkins is always my go to store for florals; they just always seem to get their prints spot on. (I can't be the only one that is still wearing pieces from their
2011 Floradita range!
). They're on trend but always wearable, and they always seem to use colours that are flattering to my skin tone. It's like magic!
If you're a floral addict like me then do check out the video: there is a floral swimsuit and a floral bikini in it that I am lusting over so hard: I really wish I'd seen them before my holiday earlier in the month.
Need an extra incentive to check out the new summer ranges from Dotty Ps? You can now get
up to 30% Off Everything at Dorothy Perkins
in their huge May event: just don't leave it too late, as the promotion ends on the 1st of June (that's this Sunday).
Love Tor x