Hi guys,
As you know, we just got back from a week at
The Blue Lagoon Village in Kos
. Normally when I review my holidays and write my holiday guides it is the place itself I review. However we didn't really spend much time outside of the resort in wider Kos, so this is just a quick review on the beautiful hotel instead: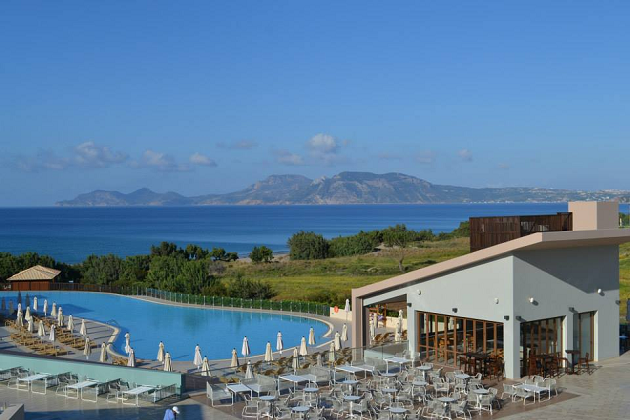 Firstly, I was really impressed with the room which was massive, and much more like a self contained apartment: all that was missing was a kitchen! We had two double bedrooms (one for us and one for Wilbur and his travel cot), a massive entry hall with a full length mirror and double wardrobe, and a sofa so comfortable you sank straight into it. It also had a huge bathroom with a power shower and seriously deep bathtub. The highlight though was the double balcony with a huge table and deep chairs where we could relax and watch the world go by. The photo above is the view from our balcony. It was so amazing to wake up to views like this every morning.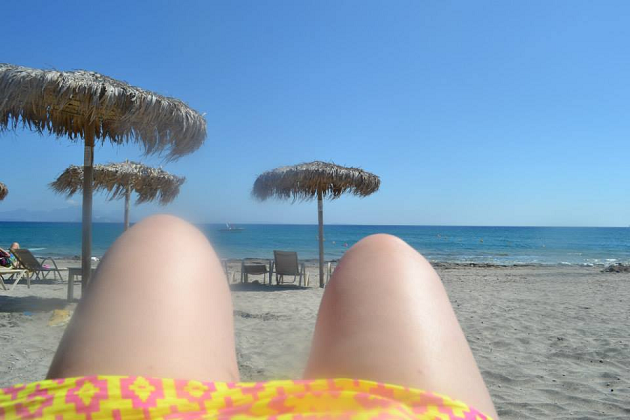 The facilities on the resort were very good. They had to be: the resort was so self contained it was hard to leave! Several large swimming pools, a purpose built water park with 4 thrill slides, a lazy river and a pirate ship for kids to romp all over. There was also an indoor pool for when the weather was a little cooler. And the beach was only a 3 minute walk from our room. The shops sold literally everything (seriously), the spa looked incredible and there were two big playgrounds I spent what felt like hours running around with the little man. Although it might not be to everyone's taste, Wilbur loved the kids disco and the chance to meet Thompson the dog every night, then after the kids shows there was also a passable entertainment team singing and dancing to a variety of pop and show tunes every night.
For me, the highlight of the week was the food. With eight restaurants to choose from on our seven night stay, we could eat somewhere different every night. So we did: we cooked our own BBQ on a grill under the stars, enjoyed authentic greek food, not so authentic Chinese food, and tried the world buffet where we ate a little bit of everything. There was child friendly food in every restaurant, and the main restaurant opened early each night for kids too. I'm pretty sure I've gained a full stone due to eating baklava every day but I don't regret it. I wish I could eat it again as I type! We ate freshly made crepes by the pool every day, and the Italian restaurant was so delicious we had lunch there four times: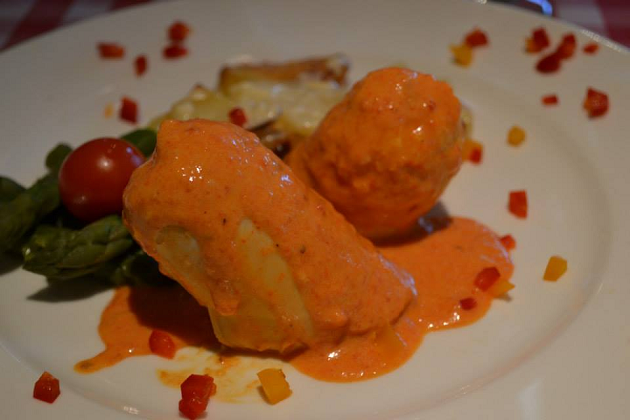 It's an all inclusive resort, which usually means you have to pay a supplement for anything really delicious looking: particularly when it comes to drinks. But I was drinking some yummy cocktails from 10am - 10pm every night without having to spend a penny. This is one of those rare occasions where all inclusive really did mean all inclusive.
Our holiday was
booked through Thoms
on, which is the only UK supplier to this hotel. It is classed as a family friendly resort and that's exactly what it is: perfect for kids of all ages, whilst still having enough luxury features to keep the grown ups happy too. Whilst I don't think I would go back to Kos again (there just wasn't really enough to do, and we like to be active on holiday) I would recommend this hotel heartily to any family looking for a high quality, relaxing, luxury break.
Love Tor x