Hi guys,
It's nearly the bank holiday! And for most of us that means fun days out, long walks and (if the weather is on our side) a sunny BBQ or two! Mike, Wilbur and I are visiting my parents for the weekend so we will be enjoying a mix of walks to the park and long afternoons building sandcastles on the beach. So what will I have on my feet? Well for me it has to be
practical, stylish, gorgeous Converse!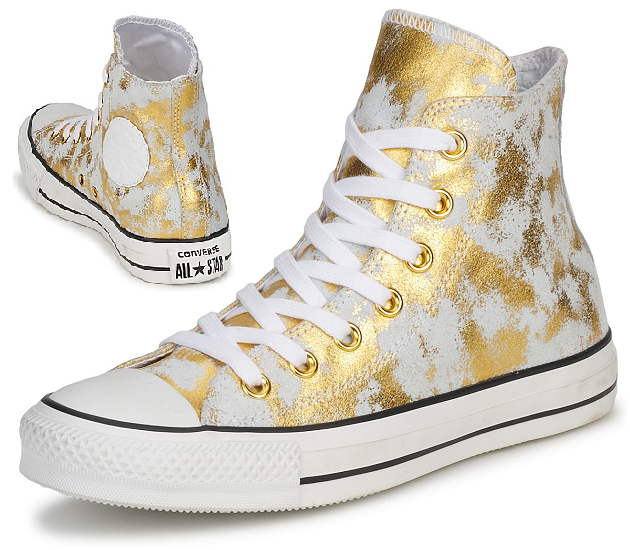 My Converse are peach, but I am seriously lusting after these
incredible gold ones!
They're all leather and have a gold and white tie dye pattern all over them. Even the eyelets are gold: and you know how I feel about anything gold! Love it! Converse teamed with skirts or dresses isn't the look for me: I tried it in my teens, but now I think it's too grungy and too scruffy. It's a classic and preppy combination but I prefer Converse hi tops teamed with skinny jeans and simple shirts or blouses: there's no better casual outfit when you don't want to think about what you're going to throw on and you're having an active and informal day out. With these on my feet though, I'd still be able to show off my fashion credentials!
Want a pair of your own? Well they're a little more expensive than normal Converse but you can have a pair of these for £79.99.
You'll find them here.
We just booked a holiday for the three of us to Paris/Disneyland Paris in six weeks time: I will definitely be getting these to wear for the occasion! What do you think?!
Love Tor x
*Post written as part of a partnership with Spartoo shoes